God is our refuge and strength, a very present help in trouble.
Therefore we will not fear though the earth gives way,
though the mountains be moved into the heart of the sea,
though its waters roar and foam,
though the mountains tremble at its swelling. Selah
–Psalm 46:1-3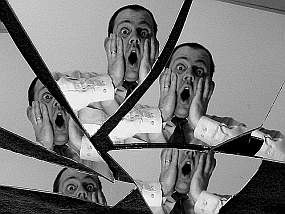 "Therefore, we will not fear…"
I don't know why so many Christians today live in fear. But then again, I do know.
It is American to want to be in control. Our national psyche reflects maintaining what we have accumulated for ourselves. Protecting. Guaranteeing.
You see it on days that celebrate our soldiers, both those living and those dead. We console ourslves by saying they made the sacrifice to ensure freedom. The oddity in this is that ensuring freedom is also ensuring control.
It is also true that one man's freedom is another man's control, and nothing drives fear into our hearts more than to see our control give way to what another man considers his freedom.
And then the mountains begin to move, and both men realize that control is an illusion. And now both fear.
I don't know when Christians in America began to fear so much, but I think the postmillennialistic triumphalism that was the hallmark of the American Church of the 19th century was disabused by the events of World War I. That the world could descend into such madness despite all our positive work to better ourselves! We lost control and failed most inhumanly. I think that nothing has been the same for us as a Church ever since.
Here's the thing: Christians, more than anyone, should be sober people. We understand the nature of fallen men. We understand evil. We have a Gospel that tells us that we were incapable of controlling ourselves in a way that could save us. Only God in Christ had that level of control. Our salvation, even though He looked like us, came from outside of us. We could not save ourselves. We are not in control.
There is something about the American Church of the last 50-60 years that has been loathe to admit that we are not in control, even though we should understand this better than others. The Culture Wars we waged were always more about maintaining control than they were about actual sin.
Even today, as we see God's symbol of the rainbow co-opted by those who rail against Him, their victories portrayed as our supposed losses, we are as fearful about what this loss of control means as we are about the sin that fuels it.
Into this, God speaks to the Christian soul and reminds us that even moving mountains should not be a cause for fear. His perfect love casts out all fear. He reminds us that fear is, indeed, the opposite of love.
Christian, never fear.
I can tell you that with words, but what is true is that drawing closer to God is they only way to live without fear. Draw close and trust. God is never surprised, and He is in control. Only He remains unmoveable, and when we abide in Him, we are as well.