The LORD is on my side; I will not fear. What can man do to me?
—Psalms 118:6 ESV

Peace I leave with you; my peace I give to you. Not as the world gives do I give to you. Let not your hearts be troubled, neither let them be afraid.
—John 14:27 ESV

There is no fear in love, but perfect love casts out fear. For fear has to do with punishment, and whoever fears has not been perfected in love.
—1 John 4:18 ESV
If you were to ask me what word described American Christians at this moment in time, I would not hesitate. That word is fear.
Fear of terrorists
Fear of homosexuals
Fear of whichever political party is not ours
Fear of someone who might take our means of defense away
Fear that America has been usurped by people who hate America
Fear, fear, fear, fear, fear, fear.
Social media is increasingly a fear fest, where the whole world can see American "Christians" publicly display their myriad fears of this or that.
Desperation undergirds that fear. Powerlessness too. People are flailing, looking for anything they can grab onto, as if they're drowning. Which they are—in fear.
I was born near the time of the Cuban Missile Crisis. My father told me he was sure his soon-to-be first child would never see the light of day, obliterated in a nuclear exchange between the world powers of that time.
We can talk about whether this age is more rightful in its fear than that one, but that's missing the point. We always seem to be missing the point, which is this:
For the Christian, there must be no fear.
Jesus commanded that we not be afraid. Is that not enough?
For the person who does not know Jesus, there is good reason to fear. But there is no good reason for the Christian to be afraid. If Christians fear, it is because we love our lives too much. It is because we fear punishment. It is because we are not perfected in love.
If that's you, go to the Lord and let Him deal with that fear in you.
Every generation of Christians believes it is the terminal generation, the final one before Christ returns. Whether this generation is or isn't changes nothing. The Lord says, "Don't be afraid."
Everyone is watching the news for more terrorism, more war, more natural disasters—more of everything that should cause fear.
The Christian instead responds with peace amid the turmoil, love amid the hate, confidence amid the questions.
The Christian is the one lost people go to for comfort because the Christian knows the One in whom she trusts is faithful.
Who shall separate us from the love of Christ? Shall tribulation, or distress, or persecution, or famine, or nakedness, or danger, or sword? As it is written, "For your sake we are being killed all the day long; we are regarded as sheep to be slaughtered." No, in all these things we are more than conquerors through him who loved us. For I am sure that neither death nor life, nor angels nor rulers, nor things present nor things to come, nor powers, nor height nor depth, nor anything else in all creation, will be able to separate us from the love of God in Christ Jesus our Lord.
—Romans 8:35-39 ESV
Lost people watch us. They search for something, anything different about Christians that shows us to have something no one else possesses.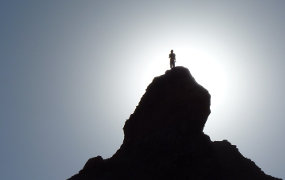 They look to find someone who loves his enemies.
They seek to find someone who models fearlessness.
They long to find someone who is a rock of peacefulness, unmoved by shifting tides.
People everywhere are dying for the Church to be unflinching in the face of fear.
Christian, if you refuse to give into fear because you rest on the finished work of Jesus and on His faithfulness, then the result will show in your words and actions. You will be an ambassador for Christ and for His Kingdom, which not only cannot be destroyed, but also cannot even be blemished in any way because it is impervious to anything that comes against it.
Whoever loves his life loses it, and whoever hates his life in this world will keep it for eternal life.
—John 12:25 ESV

For if we live, we live to the Lord, and if we die, we die to the Lord. So then, whether we live or whether we die, we are the Lord's.
—Romans 14:8 ESV
Even if you die, nothing can be taken away from you, because Jesus has already given you everything, and your life is hidden in Him. What is His cannot be taken away from Him—ever.
Be an instrument of peace.
Be a vessel of love.
Be the person who does not fear.
Be the person who comforts others when they do.
The world is watching.