Been reading some outstanding blogs that have tackled the issue of paedobaptism (the baptism of infants and toddlers) and find much of what they say to be worth considering.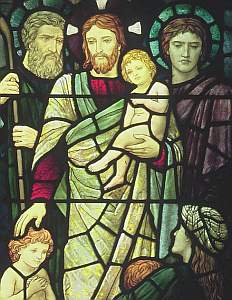 But one thing bothers me. As someone who has been a part of both churches that practice paedobaptism and churches that abhor it, I have always had a question for paedobaptists that none has ever been willing to answer: If you baptize infants and toddlers, why do you not allow them communion?
That seems like an oxymoron to me. To deny communion to baptized members of the Body of Christ flies in the face of the Lord's admonishments to us concerning communion (when seen through the same logic used in support of paedobaptism.) If we want the little children to come to Jesus through baptism, why would we not let them come to him through communion?
I say this because the paedobaptist churches I was a part of refused young baptized children communion until they had completed some sort of catechism or were considered to be of the age of accountability. But if we are not willing to allow young children to commune with their households (and have the biblical injunctions to make a case for not doing so), then how can we make the case for paedobaptism using household analogies?
I really want to hear a good justification for this odd dichotomy in belief. So please comment!
{Image: Detail of Henry Holiday's "Suffer the Little Children"}