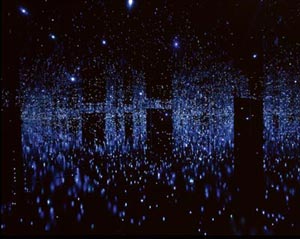 One of the things I like about the rural area in which we live is the summer spectacle of myriad fireflies (or lightning bugs, depending on your locale) lighting up all over our property and our neighbors'. To say they are myriad does not do justice to the truth—you can add another zero on the end. At least it looks that way to me.
To watch a hundred thousand pinpricks of light going off over a couple dozen acres is a sight everyone should behold at least once in life. The seemingly random flashes are actually not as random as they appear. One night at 3 AM, unable to sleep, I roused myself for prayer and happened to look out our back bedroom window where I saw a strange sight: the fireflies were responding in an actual pattern. I could count the wave of light as it traveled across the back hedgerows of our land and witnessed the pattern repeat itself over an interval of about five seconds. Simply astonishing.
Jesus said:
"You are the light of the world. A city set on a hill cannot be hidden. Nor do people light a lamp and put it under a basket, but on a stand, and it gives light to all in the house. In the same way, let your light shine before others, so that they may see your good works and give glory to your Father who is in heaven.
(Matthew 5:14-16 ESV)
Watching those fireflies shining in the darkness, I could not help but wonder if my vantage point was like that of God's. We are but a breath, and our lamp is extinguished in a second, yet it has an eternal purpose ordained by God, an astonishing display that when seen from on high is a glorious illuminated dance that inspires joy in the Beholder.
{Image by
Yayoi Kusama
, You Who Are Getting Obliterated in the Dancing Swarm of Fireflies, 2004}