This is the fifth in a series of posts covering the hidden messages that sneak into American churches' proclamation of the Gospel. For more background, please refer to this post.
High school is the grand social experiment wherein hormonally-driven young people seek to establish a place in the social pecking order. Any keen observer of the high-school scene will easily note the depths to which some teens will sink in order to be perceived as cool or attuned to the latest vibe.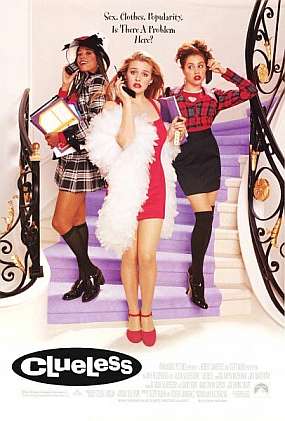 No one wants to be left out.
Everyone knew (or some of us may have been) that kid who spent every waking hour trying to fit in. The tragi-comedy of the teen years is observing the desperate lengths to which some kids go to keep from being deemed irrelevant to the greater theatrical production. If all the world's a stage and we are merely players, no one wants to be the understudy.
Hopefully we all move on and grow into maturity. Even then, a high school reunion will expose that handful of people who are still trapped in the "Please look at me! I'm cool, too!" phase.
We can excuse our teenagers for this desire, but we can't excuse adults who never get over it.
Large swaths of the American Church can't get over it. There is a desperate longing to be perceived as smart, "hip," and worldly wise. Step into a few churches today and note that they not only serve you a latte you can take into the worship service, but the coffee is pitched as being free trade, so no one can accuse the church of not being cool enough to be sensitive to economic and environmental issues.
Like the teenager screaming, "Please look at me! I'm cool, too," American Christians have become obsessed with not being left out of the "be there or be square" party everyone's attending.
If you're an American, you had to have been squatting in the bowels of Carlsbad Caverns for the last year to have missed the fact that THE MOVIE is debuting this weekend. All of us having sucked long on the marketing teat behind THE MOVIE, I need not mention its name. You and probably everyone you know are aware of THE MOVIE. Many of us are planning on seeing THE MOVIE either Friday or Saturday for fear we won't be able to discuss it on Sunday before and after our church services.
After all, we let Hollywood know that we demand more movies like this, movies that cater to us, because hey, we're cool, right? We have money as well. And we don't ever want to be left out of what's cool for fear the world will think less of us. What good is a Church that avoids the world's party?
In far too many churches in America today, the message on Sunday is that Christianity is cool and hip. It's a faith that makes cultural demands that need to be met by the world's power brokers. It cries out for Christian-themed amusement parks, Bibles with dimpled steel covers, and stuffed Aslan dolls that better darned sure look exactly like Aslan (or else we won't buy it.) It's a new and improved Christianity that walks with a swagger and demands to be on student council so that popularity is assured. Sure, we may talk about a savior who was killed by crucifixion, or we may espouse ideals of dying to self and to the world, but that doesn't mean we can't look cool doing it. Or so the conflicted message goes.
For a lot of churches and the Christians who populate them, the greatest fear is to jammed into a locker and have the door slammed on us. Once you've been assaulted in that manner by the school's alpha jock, you're relegated to loser status forever.
I seem to remember this Bible passage, though:
Who shall separate us from the love of Christ? Shall tribulation, or distress, or persecution, or famine, or nakedness, or danger, or sword? As it is written, "For your sake we are being killed all the day long; we are regarded as sheep to be slaughtered."
—Romans 8:35-36 ESV
Regarded as sheep to be slaughtered? Highly, highly uncool.
Or how about this:
Blessed are you when people hate you and when they exclude you and revile you and spurn your name as evil, on account of the Son of Man!
—Luke 6:22 ESV
You'll never be class president if you're reviled. They'll vote for that Pedro guy instead.
This one stings a little:
For to me to live is Christ, and to die is gain.
—Philippians 1:21 ESV
It's hard to be a debutante when you're dead, isn't it?
Or…
Do not love the world or the things in the world. If anyone loves the world, the love of the Father is not in him. For all that is in the world—the desires of the flesh and the desires of the eyes and pride in possessions—is not from the Father but is from the world. And the world is passing away along with its desires, but whoever does the will of God abides forever.
—1 John 2:15-17 ESV
I guess the prom is out then, huh?
Or…
And he said to all, "If anyone would come after me, let him deny himself and take up his cross daily and follow me. For whoever would save his life will lose it, but whoever loses his life for my sake will save it. For what does it profit a man if he gains the whole world and loses or forfeits himself? For whoever is ashamed of me and of my words, of him will the Son of Man be ashamed when he comes in his glory and the glory of the Father and of the holy angels.
—Luke 9:23-26 ESV
But the popular kids like me now!
We've got to stop this high school behavior in the American Church. We're so wrapped up in our image that our main message of the Gospel is threatened with becoming the real hidden message. We're glorying in worldly acclaim, but that acclaim is worthless. We're excited about the power we supposedly wield politically, culturally, and so on, but it's all a façade. We're high school kids caught up in the social milieu, desperately trying to be cool and popular.
Th result of our dalliances is that we've made Christianity nothing more than a check mark on a To-Do list somewhere next to "Get a date for Homecoming" and "Buy more Clearisil." The transforming power of the Gospel has been replaced by a message that's a salve for getting dumped before prom night, or strength for revenge against the stuck-up girl who made us look bad in gym class a month ago. Dying to self, loving Christ and others, making disciples, being salt and light—that's the heart of the Gospel, not all that kiddie stuff.
High school isn't the real world, folks. "Please look at me! I'm cool, too!" is like…so yesterday. It's time we American Christians grew up and acted like adults.
{Image of the movie poster from Clueless — Paramount Pictures.}