I had two intriguing posts I could've filled this spot with today. One riffs on the Kirk Cameron exhortation to SBC pastors, while the other deals with the balance of Word and Image in Christian faith and practice.
But I won't be writing on either one today.
Being a blogger means coming up with penetrating commentary day in and day out. Some people can blog every day, but I simply could not produce quality posts if I did so. I need to ruminate on topics for Cerulean Sanctum. Most of the posts you read have stewed in my mind, heart, and spirit for days. Readers get genuine fermented thoughts, in other words.
When the Pacific tsunami hit just after Christmas a few years ago, stories came out of folks seeing the wave swell coming, then running and running,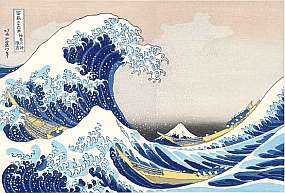 but succumbing in the end because they could not escape the inevitability of that punishing wall of water.
Try as I might over the years, I've thought and thought about a theology of the tsunami, but I can't seem to come up with any spiritual advice, any wisdom at all, to shed on the subject. I guess I've never quite understood what good it is to see the tsunami coming but have no ability to avoid it.
The Bible says this:
For man does not know his time. Like fish that are taken in an evil net, and like birds that are caught in a snare, so the children of man are snared at an evil time, when it suddenly falls upon them.
—Ecclesiastes 9:12
That captures the idea, in part, but the evil net that rises up to ensnare comes unseen. The comparison doesn't work.
Acts offers a better portrait:
While we were staying for many days, a prophet named Agabus came down from Judea. And coming to us, he took Paul's belt and bound his own feet and hands and said, "Thus says the Holy Spirit, 'This is how the Jews at Jerusalem will bind the man who owns this belt and deliver him into the hands of the Gentiles.'" When we heard this, we and the people there urged him not to go up to Jerusalem. Then Paul answered, "What are you doing, weeping and breaking my heart? For I am ready not only to be imprisoned but even to die in Jerusalem for the name of the Lord Jesus." And since he would not be persuaded, we ceased and said, "Let the will of the Lord be done."
—Acts 21:10-14
Agabus's prophecy only clouds my understanding of this issue. He saw the wave about to hit Paul. What I find odd about this prophecy is that it is one of an unchangeable inevitability. It told of a tsunami that could not be outrun. Yet if it had not been told, the outcome would have been the same: Paul would have gone about his business, wound up imprisoned, and ultimately executed all the same, prophecy or not. Why let everyone see the inevitable tsunami? All it seemed to do is distress the rest of the believers.
I've experienced seeing the tsunami coming before it hits, yet at no point have I been able to outrun it or witness others outrun theirs. Why then? The knowing only creates distress long before the wave crashes onto land.
Cerulean Sanctum gets some of the best readers of any blog out there. I was talking with a reader today and noted how blessed I've been to have such astute people join in the conversation here.
Have you experienced the "inevitable tsunami" in your life or the life of someone else you know? Why do you think God allows us to see the tsunami from afar if there's nothing that can be done to escape it?