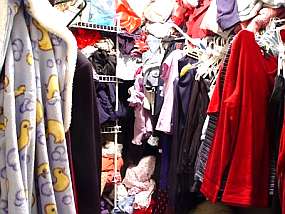 I spent most of this week discarding.
Most of what got tossed went to the recycling center. Other items will be sold off. I don't like to see my excess wind up in a landfill just because I couldn't control how much I consume. Driving past the county dump this afternoon, it seemed to me to be a hundred feet higher. Though I do my best not to contribute to the altitude, I can't escape that at least a few of those towering inches are indeed mine.
The number of bags of shredded files totaled five. I can probably shred another ten bagfuls. My parents' lives comprised much of those confetti strips of paper. They've been gone nearly seven years now. Old mortgage papers, phone numbers for people who have moved on, medical receipts. Two lives in paper.
Our house resembles a bomb blast as we make room. Items that once held precious memories today prove that magic drains out in time. The present asserts itself, while the future bears down with the weight of uncertainty.
The Lord's been speaking to my heart this week. He says I need to live lighter. With each discarded item, each memory that tumbles from my hand, each dream I let go, I know I'm one step closer to heaven.
I don't think that word's just for me, though.
I've lost nearly 30 pounds on the low-glycemic diet I've been following. It could have been more, but 30 was enough. I added a few off-limits items and my weight has stabilized. Of all the effects of this weight loss, none compares with the energy I've rediscovered.
There's a lesson for us in that.
Whenever I consider the American Church's state, I can't help but think that much of our problem stems, not from the weight of glory, but from the burden of worldliness. Our inability to resist the weight of the world has rendered us fat and lazy, shackled to things, and far from the heart of God.
A simple gut check here: we don't do the things Christ asks of us because if we did, we'd have to lose our lives. We'd have to step away from the TV, turn off the iPod, stop planning the vacation in Cancun, and get serious about the work of the Lord. We'd have to stop wondering how to insure all the debris we lay claim to and start investing in the Kingdom.
But you see, we can't, can we? All that stuff means too much to us.
I hear so many people talking about seeking after God for a vision for their lives. To most of those people, I would say, "Give up now."
Why? Because not a square inch exists in their souls for whatever vision God would wish to give them. All the empty places reserved for the Lord are filled with the world's accumulated trappings. That stops 99 percent of Christians in the West dead, right there. They'll never be effective for the Kingdom because they can't give it all up and live lighter.
When God sent manna, He warned the people not to store it because He wants His people to live lighter.
When the days grow dim, Jesus warns us not to go back for our coat when it is time to move because He wants us to live lighter.
The desire to hold onto the world's symbols of success destroys Christians. Destroys. The number of people who put their hands to the plow and look back must be in the millions. And each one of those millions grieves the heart of God. When I think of all those hopeful servants who never achieved God's best for them because, like the monkey who grabbed the coconut in the trap, they couldn't let go of their stuff and subsequently saw their ministry potential nullified…well, it breaks my heart.
At one point in my life, nearly everything I owned fit into my Honda Civic hatchback. But time, a little success, marriage, and children all contribute to this upward parabolic curve of accumulation that inevitably leads to divided loyalties. And most people fail to question that division. They'll call their wealth "God's blessing," yet for most people that "blessing" only leads to a soul loaded down with perishables. Instead of storing up treasure for heaven, we're hoarding the wealth of the flesh and watching our potential for the Kingdom wither and die.
The American Dream undoes most of us. On paper, it reads great. But the reality only leads to bloat and uselessness. And if we think God's going to use us mightily for the Kingdom when we're stuffed to the gills with the world's excess, then we're the most deceived people on the face of the planet.
If we want our lives to reflect the transformation from self-centered louts into the glorious image of Christ, then we have a choice don't we? And the amazing thing about that choice is that even if we chose wrong a long time ago, the Lord will give us another chance to choose right. He wants us to lose the world's flab, even if we gorged ourselves on it once.
Right now, it's not too late. One day, it will be.
To live larger, we've got to live lighter.
What do you have to lose?