Why does the way of the wicked prosper? Why do all who are treacherous thrive?
—Jeremiah 12:1b
It's a good question to ask concerning those who wickedly prospered at the expense of others, knowing they were doing wrong but letting expediency and the lure of a quick buck be their guides.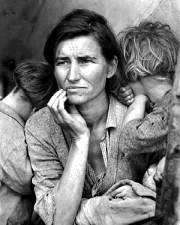 The present economic disaster rests largely on the shoulders of the treacherous and deceitful, doesn't it?
What makes it all the worse is that those who made millions selling derivatives of derivatives of derivatives, who knew it was all a house of cards that would doom other people,  are off enjoying the beaches of Nice on the Riviera while you're in tears because you can't find your tattered box of grocery coupons.
Monday was one of those days that amounts to a troika of tragedy, bad news coming in threes, one of those days that has you questioning everything, especially a verse like this one:
No ill befalls the righteous, but the wicked are filled with trouble.
—Proverbs 12:21
When it seems to be nothing but ill for the supposedly righteous, while the supposedly wicked prosper, well that's one of those theologically low days, isn't it? Makes you wonder just where you stand on the righteousness-wickedness scale.
A couple weeks ago, I was talking with a friend who said to me that it sure seemed to him that people who are closer to God appear to have more trouble in life than those who could care less about the Almighty.
Do those righteous folks always end up like Joseph, who went from the bowels of Pharaoh's dungeon to the seat at his right hand, along the way becoming the savior of Egypt? Or are they more likely to be like this fellow:
There was a little city with few men in it, and a great king came against it and besieged it, building great siegeworks against it. But there was found in it a poor, wise man, and he by his wisdom delivered the city. Yet no one remembered that poor man.
—Ecclesiastes 9:14-15
Starting the week off on heavy topics may be par for the course around this blog, but I'm holding onto hope anyway.
What is your take on this? Is it true that people who are more devout seem to suffer more than the clueless pagans around them? Regardless of how you answer that, why do you believe that way?