We watched the penultimate teaching from The Truth Project this evening at church. It dealt with labor.
I found it a good teaching, showing that work can be a joy because God Himself took joy in His work. Best of all, the teaching touched on the need for Christians to support the arts and those skilled in various kinds of work.
If you've read here any length of time, you know I talk at great length about the intersection of Christianity and work, and definitely NOT in the traditional evangelical vein of seeing that intersection as little more than working hard to please God and starting a workplace Bible study. I try to tackle tougher issues, like economic justice issues and their impact on community.
After we convened in the café to discuss the teaching, I told my wife I would keep quiet, even though I have a great deal to say on this subject. 😉 I was facing a work-related issue even as I sat there, so I knew it would be difficult.
Twenty minutes went by.
I don't remember exactly what triggered my silence failure, but I raised my hand to ask if I could demonstrate what I was going to say. The discussion leader looked at me and nodded.
I walked over to the wall of the café where there was a "painting" and asked folks  to imagine that I was the painter who had painted that artwork with my God-ordained gift, using the art supplies and tools I'd purchased, and devoting the cost of my labor to its creation. The pricetag was $200. Now, I also asked them to imagine that some factory in China was spewing out "art" that closely resembled mine for a cost of $20. My question: Which fellow brother and sister in Christ would buy my artwork for $200, thus supporting my God-given talent, while also keeping money within the community (and not only the local community, but the community of saints)?
One of the major points in the teaching was that people are finding less satisfaction in their work. I believe what I illustrated explains why—and much more.
Imagine that you come home to your house, which was built by the man down the street.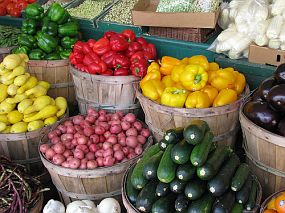 You open the front door, which was fashioned by the local carpenter. You hang up the coat your mother made, then sit down at the table your next-door neighbor crafted. The plates you take out of the pantry—made by the couple around the corner—will be filled with the vegetables your farmer neighbor grew.
I look at my own home and it is filled with cheap stuff made in China that ultimately has no connection to anyone I know. It possesses no genuine community, no memories of its creator, no ties to people I see every day. And for this reason, my local community is robbed of connection.
Worse, though I claim to be a Christian who honors artisans using their God-given talents within their holy work, when was the last time I relied on someone from my church for…well, anything? Is there even one item I own that has some connection to a Christian I know?
If we want to explain why so many people feel their work lacks meaning, what better explanation than the things we produce have no connection to us or to the people who buy them? In our race to the cost bottom, have we forgotten that buying goods and services our neighbors create/raise/grow fosters community?
If the food I buy in the grocery store comes from Vietnam, and my dying to save a couple bucks puts my farmer neighbor out of business, what then is the cost to me and to my community now that he's now without a job? Was anything gained? Or was everything lost?
To say that I was floored when folks tried to argue "well, that's just the way it is" is an understatement. As if not one single thing we can do as Christians can fight that trend! How impotent have we become? I even heard justification for consumerism as a way to get the Gospel out to foreign lands. (Needless to say, I did not ask if getting the Gospel out to the world was worth excusing the slave trade, but then again, I'm not fond of being stoned to death by my fellows.)
How can we truly call ourselves the countercultural example to worldliness if we just shrug on this issue and claim there's nothing we can do? How in the heck can we say with a straight face that we're concerned about our neighbor if we refuse to buy his goods and services? How can I say that the Gospel went out because I bought some piece of crap from China, while ignoring the quality item my neighbor sold before he ended up in the breadline? What does my neighbor think of such a "gospel" when his house gets swallowed in foreclosure?
I'm not immune, either. I fail like everyone on this. I don't always know where all my stuff comes from. But honestly, the question nags at me. (And not just because run a small farm, either.) I think at least some of the mess we're in economically is because of our failure to deal with this very question. And I also know that the life-robbing disconnection that so many of us feel is due, in part, because the things we buy have little or nothing to do with our neighbor. Nothing in our work ties us together in mutual enterprise.
Later that evening I came home to talk with a friend about a work issue. In the process of conversation, I found out that her company farms out its document proofreading and editing to India. I laughed, especially considering my impassioned plea at church just minutes before. But trust me, that guffaw wasn't a hearty one.