On Thursday, my family and I drove up to Columbus, Ohio, to meet up with a friend of mine from my Carnegie Mellon University days back in the early '80s. That's a long time to know someone, but old friends are often the best friends of all. The last time Bob and I got together in person was at my wedding 13 years ago, so it has been awhile. Still, we have kept up by phone, email, and now Facebook.
The crux of our getting together this time was another wedding, his. Though we were not able to make the ceremony, as we do not travel well at this time, I was relieved that he and bride Christin would be only two hours away as part of their honeymoon. That WAS doable.
What I didn't realize until the morning of the meeting was that Bob and Christian were attending the Origins Gaming Fair, the big convention for fans of role-playing games, boardgames, military strategy games, and…well, most any kind of game out there. I've never seen so many gaming fans together in one place. Our son was with us, and I knew he would eat up all the fun stuff going in within the many rooms of the convention center, and indeed, we had a blast.
But it wasn't on the convention floor that I was most blessed.
As it was a meeting to celebrate a wedding, we brought a gift. I thought about that gift a long time and was able to find exactly what I was looking for to give to Bob and Christin. When we met, they were waiting there with a gift in their hands, too, something I did not expect.
Bob asked me to open the bag—inside was something very special.
When I was still in my youth, my brothers and I had a copy of an aerial combat game called Ace of Aces. By using an innovative game mechanic, two people with the small, paired, illustrated books of maneuvers could participate in a real-time dogfight. The game was brilliantly simple, and I loved playing it. And if I loved it, I knew my son would, too.
Sadly, though it was highly regarded, the many Ace of Aces variants are all out of print. Copies sold online command very high prices. I know; I checked. It seemed to me that my son and I would have to pass up playing this game together.
When I opened up the gift bag from Bob and Christin, I found a copy of Ace of Aces. It had been the copy that Bob and his son (now an adult) had played. I couldn't believe it.
Walking back to my car to safely stow this wonderful gift, I got a tear in my eye. I kept thinking that this is how God is with us. We seek to bless Him, but what He blesses us with in response is much more than we can imagine. Just as my friend had been paying attention to a comment I made on Facebook about searching for this game, God hears us and plans great things for our pleasure, because He loves us so very much.
God cares about our needs, but He also cares about our joy. A little game I can play with my son may not seem like an earthshattering thing, but its an example of God's goodness in even the smallest things.
After we left Bob and Christin, we met up with a Cerulean Sanctum supporter, Travis, one of the longest-running readers of this blog,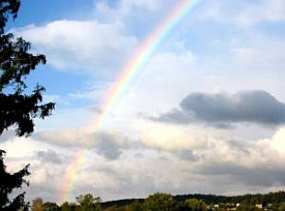 and someone I had not had the pleasure of meeting face to face. We ate together in a nearly deserted Bob Evans, and we talked about his new daughter. Just some regular folks hanging out and talking about life. Driving home, my family and I saw a rainbow. Last night, we watched two baby finches, whose nest was in our hanging fern outside, take their first flights and disappear into our woods. On a sweltering evening, we felt the first cool breezes of an oncoming nightfall before the stars came out thick and bright, the Milky Way lighting up the sky.
God cares about us and shows it in a million little ways each day. My prayer is that you can find the time to exult in those blessings and realize how much you are loved.
Be blessed and cultivate joy. It's all around you.