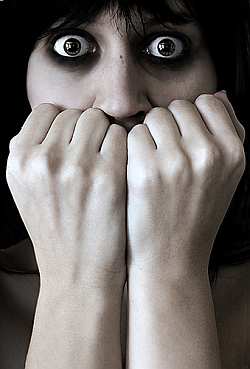 If someone were to ask me what emotion best characterizes the American Church in 2011, I'd have to say fear. Everywhere I look, some self-styled church leader is playing the fear card. Christian bloggers blog about issues that instill fear. Average Christians in the pews lament the continued American downslide and point trembling fingers willy-nilly at whomever/whatever they believe the cause to be. Christian survivalists are building their stashes to weather the coming apocalypse. I can't tell you how many believers lately have told me they are considering, for the first time, buying a gun.
Talk to any of these folks and they'll all tell you they are simply proving themselves ready. This is a commonly cited parable:
"Then the kingdom of heaven will be like ten virgins who took their lamps and went to meet the bridegroom. Five of them were foolish, and five were wise. For when the foolish took their lamps, they took no oil with them, but the wise took flasks of oil with their lamps. As the bridegroom was delayed, they all became drowsy and slept. But at midnight there was a cry, 'Here is the bridegroom! Come out to meet him.' Then all those virgins rose and trimmed their lamps. And the foolish said to the wise, 'Give us some of your oil, for our lamps are going out.' But the wise answered, saying, 'Since there will not be enough for us and for you, go rather to the dealers and buy for yourselves.' And while they were going to buy, the bridegroom came, and those who were ready went in with him to the marriage feast, and the door was shut. Afterward the other virgins came also, saying, 'Lord, lord, open to us.' But he answered, 'Truly, I say to you, I do not know you.' Watch therefore, for you know neither the day nor the hour.'"
—Matthew 25:1-13
The wise ones in the above parable are wise because they are ready for the bridegroom. But what does that readiness look like?
Therefore you also must be ready, for the Son of Man is coming at an hour you do not expect. "Who then is the faithful and wise servant, whom his master has set over his household, to give them their food at the proper time? Blessed is that servant whom his master will find so doing when he comes."
—Matthew 24:44-46

Remind them to be submissive to rulers and authorities, to be obedient, to be ready for every good work, to speak evil of no one, to avoid quarreling, to be gentle, and to show perfect courtesy toward all people.
—Titus 3:1-2

And he called the twelve together and gave them power and authority over all demons and to cure diseases, and he sent them out to proclaim the kingdom of God and to heal. And he said to them, "Take nothing for your journey, no staff, nor bag, nor bread, nor money; and do not have two tunics. And whatever house you enter, stay there, and from there depart. And wherever they do not receive you, when you leave that town shake off the dust from your feet as a testimony against them." And they departed and went through the villages, preaching the gospel and healing everywhere.
—Luke 9:1-6

"You have heard that it was said, 'An eye for an eye and a tooth for a tooth.' But I say to you, Do not resist the one who is evil. But if anyone slaps you on the right cheek, turn to him the other also. And if anyone would sue you and take your tunic, let him have your cloak as well. And if anyone forces you to go one mile, go with him two miles. Give to the one who begs from you, and do not refuse the one who would borrow from you. "You have heard that it was said, 'You shall love your neighbor and hate your enemy.' But I say to you, Love your enemies and pray for those who persecute you, so that you may be sons of your Father who is in heaven. For he makes his sun rise on the evil and on the good, and sends rain on the just and on the unjust. For if you love those who love you, what reward do you have? Do not even the tax collectors do the same? And if you greet only your brothers, what more are you doing than others? Do not even the Gentiles do the same? You therefore must be perfect, as your heavenly Father is perfect. "
—Matthew 5:38-48
Does being ready consist of stuffing a basement full of freeze-dried food to ride out Armageddon? Buying guns to protect that food and oneself? Can anyone find that in the Bible? I sure can't.
Or does being ready mean fulfilling the Great Commission, doing the work Christ called us to, and living at peace with all men? When the Bridegroom returns, which servant will hear the "Well done," the one tending to the homeless or the one tending to his Mossberg to protect his home?
Here's a question we must all ask ourselves:
So we can confidently say, "The Lord is my helper; I will not fear; what can man do to me?"
—Hebrews 13:6
It seems that for many of us, the answer to the question is "Mess with my lifestyle and take away my stuff."
This explains the fear:
There is no fear in love, but perfect love casts out fear. For fear has to do with punishment, and whoever fears has not been perfected in love.
—1 John 4:18
Fear has to do with punishment. Fearful Christians, sadly, reflect the idea that they are being punished when their stuff is taken away or messed with. None of that fearful thinking reflects a born again experience of Christ, though.
Here's the truth:
You are not your own, for you were bought with a price.
—1 Corinthians 6:19b-20a

I have been crucified with Christ. It is no longer I who live, but Christ who lives in me. And the life I now live in the flesh I live by faith in the Son of God, who loved me and gave himself for me.
—Galatians 2:20

But far be it from me to boast except in the cross of our Lord Jesus Christ, by which the world has been crucified to me, and I to the world.
—Galatians 6:14

If then you have been raised with Christ, seek the things that are above, where Christ is, seated at the right hand of God. Set your minds on things that are above, not on things that are on earth. For you have died, and your life is hidden with Christ in God.
—Colossians 3:1-3
The fact is, if you have been truly born again, you died. Dead people, by all legal terms, own nothing. In Christ, you don't even own yourself. Everything that you were and are now is Christ's.
You can't harm a dead person. A dead person doesn't care about earth-bound people messing with his lifestyle. A dead person doesn't care if you take away his stuff. A dead person doesn't care about dying; he's already dead.
Fearful Christians are that way because they haven't died to self. They have no sense of the world to come, which is why they want to hold onto THIS world so badly.
Fearful Christians think that by their own efforts they will stave off whatever is to come. The Bible says differently:
If anyone is to be taken captive, to captivity he goes; if anyone is to be slain with the sword, with the sword must he be slain. Here is a call for the endurance and faith of the saints.
—Revelation 13:10
Do we understand this? I don't think we do. Instead, we bunker down and kick against the goads, desperate to save ourselves.
Christian, learn to die. In place of embracing fear, learn to love God. There is no fear in love, because perfect love casts out all fear.
Love casts out the fear of THOSE PEOPLE and their GODLESS AGENDA.
Love casts out the fear that THEY WILL TAKE AWAY OUR STUFF.
Love casts out the fear that THEY MAY EVEN KILL US.
Love of God takes away that desperate voice that so clings to what is passing and replaces it with love, which endures through all eternity.
Christian, your life is to run counter to the lives of those who hope in this world alone. Your is not to horde but to give freely. Yours is not to worry but to remain steadfast. Yours is not to plan your own means of escape, but to give direction for escaping the wrath to come to those who do not know the Way. Those who seek to save their own lives will lose them. Do not be deceived and fall into that enormous trap, as so many others will.
A life of fear can never reveal the life of Christ.
Now who is there to harm you if you are zealous for what is good? But even if you should suffer for righteousness' sake, you will be blessed. Have no fear of them, nor be troubled, but in your hearts honor Christ the Lord as holy, always being prepared to make a defense to anyone who asks you for a reason for the hope that is in you; yet do it with gentleness and respect, having a good conscience, so that, when you are slandered, those who revile your good behavior in Christ may be put to shame.
—1 Peter 3:13-16