The Internet is filled with words. The Christian section of it too.
To waltz into the Christian ghetto online will get you beaten about the head and neck with every sort of opinion, doctrinal refinement, and thought balloon. Yet it seems to me that for all the punditry and supposed solutions to all of life's problems that the online Church says it answers, almost every source of solutions ignores the foundational question that most people in the world today ask:
Does anyone care that I exist?
Sadly, that's not a question we are answering well in the contemporary Church. We can say "God loves you," but we don't offer most people much flesh and blood proof of that truth.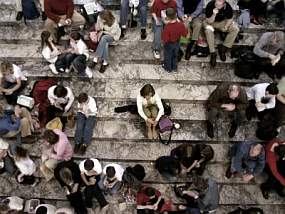 I suspect it's all too common for a person to walk into a typical church on Sunday with that question burning in the heart and leave an hour later with it unresolved—and perhaps even unadressed entirely. That a person can be utterly alone in a church packed with people…well, it happens, doesn't it?
So what difference does all the talk on the Internet make if all these authoritative voices have so little impact on that most pressing of all inquiries?
The tangential issue that bothers me most about that unresolved question is that I wonder if any of the Christians behind the voices on the Internet (and outside it) even bother to wonder what it is like to be someone else. Do we ever put ourselves into the lives of other people? Do we consider how they live, struggle, cope, and adjust?
It doesn't seem as if we do. What else explains the hamfisted way in which we deal with others? What else answers how agendas, programs, and initiatives steamroll real people? Or how people can encounter us and not be changed by the Jesus we say lives in our hearts?
Other people simply are not on our radar.
I am convinced that the only thing that will snap us out of our cocoons of self is personal tragedy. We have to suffer greatly before we begin to wonder how other people live, especially if we find ourselves alone in the midst of that suffering.
I would think that it wouldn't have to go that far, that the Holy Spirit would be enough to enlighten us to the need for dealing with humanity's brutal question, but it doesn't seem as if He is getting through to us. Not that He is somehow insufficient, only that we stuff our ears with "our lives" so as to block His shouts.
Someday in the American Church, a group of people will wake up and help others answer the question of whether or not anyone genuinely cares if they exist. Those pioneers will demonstrate that care too.
It can't happen soon enough. More power to 'em.