When everyone is worshiping on Sunday and seems to be "into" God, you stand with them.
But you're not feeling the music.
You're not feeling love for God or for others.
You instead feel alone and disconnected.
You wonder what is wrong with you.
You may even ask yourself, Am I an imposter?
Feeling as if you are faking your way through the Christian life is not unusual. In difficult times, when nothing seems to be going right, that sense can become overwhelming.
But are you really a phony with regard to your faith?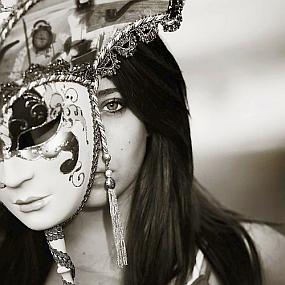 Truth is, most Christians who struggle with feelings of being an imposter need to realize, generally, that people who fake their Christian devotion aren't self-examining. Real imposters in the faith, those who may go to church and talk the talk but who aren't truly born again, don't pose questions of their motives because, for the most part, they simply don't care. Theirs is not an attitude of wanting to fix their phoniness, so they abide it without worry.
Yes, sometimes God does break through in the life of someone who has been phoning in their faith for years or even decades, but I think that's not the majority case.
Instead, I think the people who most struggle with feelings of being an imposter are genuine, born-again Christians who have run into some kind of spiritual barrier that has forced self-examination.
What are some causes for feelings of being an imposter?
1. Legalism—Whether imposed by a church or self-imposed, a mandated set of spiritual do's and don'ts can lead that imposter self-accusation. Everyone else is doing this Christian life thing right, but you're not making the grade, and you know it.
2. Listening to the Enemy when you should be ignoring him—Satan is real. And more than anything, discouragement is his tool for ruining believers. A discouraged Christian never reaches his or her full potential in Faith, which is what the Enemy wants. In addition, a discouraged Christian is an antiwitness.
3. Disconnection from other Christians—Sometimes, the people in the pews go through turnover. Suddenly, you don't know who those new folks are, have no relationship with them, and your church just feels different. You find yourself increasingly distanced from the Christian connections you once had. You wonder if there's something you're doing wrong, which explains why everyone seems not to care about connecting with you.
4. Change—Your church changed it's worship music style. The sanctuary was remodeled. You have a new pastor. Your closest friends at the church moved out of the area or switched to a different church. Everything feels different.
5. A new direction in your own life—If bridges are burning through no cause of your own, if everything you were doing feels as if it's coming to an end, maybe God has a new direction for your life. Maybe it even means changing your church. In short, not all feelings of being an imposter must be negative. Perhaps God is opening a new vista for you or is getting ready to launch you in a new ministry opportunity.
And then there's that final one:
6. Perhaps you're not truly born again.
As noted above, that final one is less likely than you might assume when you feel as if you're an imposter.
Here's the curious thing, though: Whether you are a genuine imposter or just feeling like one, the solutions are the same:
1. Repent—God desires that all men and women repent of their sins. If you are not a genuine Christian, then you need to repent. If you are a genuine Christian and you've just succumbed to ignoring what God says positively about you as His son or daughter, then you need to repent. Even if #5 applies and God is using your feelings of being an imposter to take you in a new direction for His work, repentance is always the place to start. You can't go wrong with repentance.
2. Humble yourself—Sometimes, feelings of being an imposter can make a person feel superior to others. You alone recognize that you're a fake and everyone else is too dumb to see that. They're all imposters too. Or so the self-deception goes. Don't go there. If you've repented, allow yourself to be humbled. You're dust and so is everyone else. Stop thinking that you're any better or any worse than anyone else.
3. Accept grace—God offers grace to imposters, whether they are genuine imposters or just mired in the mistaken feelings of being one. Learning to accept God's grace is key to ridding yourself of feelings of being an imposter. But it has to be learned. Ask God to help you improve in your ability to accept His grace.
4. Draw closer to Jesus—Every answer to every problem is found in Jesus. Really.
I want to expand that fourth solution.
My experience with people who feel as if they are imposters is that the majority are on the cusp of a deeper walk with the Lord. Allow Him to take you there. Deep calls to deep, and that feeling of being an imposter is often God's way of saying that He has a more fulfilling relationship He wishes to pursue with you. He wants more of you for Himself and for His Kingdom's purposes.
Because God doesn't want us to be satisfied with the status quo. He doesn't want us to be thrilled by mammon, but He wants us to be thrilled by what He values. Feelings of being an imposter are one means by which God can correct the course of your life to look more like His Son's. In a way, that feeling of being an imposter is real because all of us are imposters if we're not living in the fulness of life in Christ that He so desires for us.
So while feeling like an imposter IS something of a bad situation, it's not a hopeless one. In fact, it most often signals the start of a wonderful new direction that God has always desired for you but which you were unable or unwilling to accept because you were not ready.
He has made everything beautiful in its time.
—Ecclesiastes 3:11a ESV