"Blessed are you when people hate you and when they exclude you and revile you and spurn your name as evil, on account of the Son of Man!"
—Luke 6:22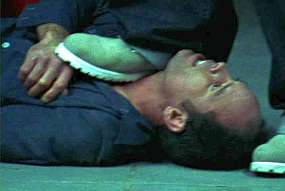 Every day, news stories proliferate of Christian believers being killed, raped, tortured, and persecuted by the people of the world. While there are isolated incidents of the same occurring to people of other beliefs, Christians bear by far the brunt of this hate.
Christians in the United States are disliked primarily because we have strong opinions about cultural issues. But in most other countries, Christians are hated for Jesus' sake, because they are light amid darkness. People love darkness and hate the light, because it exposes their wickedness. The light doesn't have to do anything but be the light. By its very nature, it reveals darkness for what it is.
If anyone needs proof of the veracity of the Christian faith, the blood of the martyrs speaks volumes. One can't look at the number of people who have died with the name of Jesus on their lips and blithely dismiss that faith as fanaticism or wishful thinking. Honest people can't look at those numbers and wave them off. They have to ask the question: Why are Christians worldwide so despised for their faith?
Christians built the world's hospitals, schools, and orphanages. Go to the worst places in the world and Christians are toiling there anonymously to make those places something othen than hellholes.
Christians gave the world much of its stunning art and architecture, music and literature. If it's inspiring and noble, chances are, whatever it might be, it has the touch of the Christian message in it.
In most places around the globe, Christians go quietly about their business, ambassadors of Jesus in a world otherwise filled with sickness and strife.
Yet somehow, the reaction of the people of the world to the above is to hate Christians, often to the point of wishing them dead. And sometimes, the wishing turns real.
If you are not a Christian, ask yourself how it can be that one group of people can inspire such opposition. Don't shrink away, but ask why. Ask yourself what it is about a couple in Pakistan that is so wrong that a mob would drag them out of their home and set them on fire. Or that Christians would be beheaded for no reason other than believing that Jesus is Lord.
God sent Himself through Jesus to die for our failures, hidden depravity, and rebellion against all that is good and right so that we would not have to die because of them. Instead, He offers us grace and a place in His Kingdom that never ends. We can't earn that place. He gives it as a free gift when we place our faith in Jesus. Because of this, we can love God as Father, Son, and Holy Spirit, and love our neighbors as ourselves. Subsequently, no matter where we go, we are ambassadors for that Kingdom, reconciling people to God, who desires that all come to Him and find rest for their souls.
This message and its realization in the lives of Christians get us hated and killed the world over.
If you are not a Christian, ask yourself what sense that makes, that people would be burned alive or beheaded for such a message. Why does this trouble so many to the point of hatred and violence against Christians?
Does it makes sense to you? Think hard. Ask yourself the tough questions. Go there.
Because this hatred of Christians isn't going to get better, only worse. If you are not a Christian, you'll watch this happen. Maybe it will be enough to show you the truth of the Christian message amid the lies of the world.
My prayer is that it will.