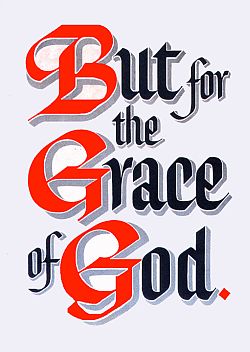 Sometimes, I think we don't have any idea what grace is.
This seems unbelievable to me, given that grace is one of the bedrock distinctives of the Christian faith. When we talk about freeing people from their locked chains, grace is the key in that lock.
But beyond the grace that God gives that allows us entrance to eternal life when we die, what does grace look like in the everyday life of the Christian and the Church?
Grace can't be for the future alone. What does grace look like now?
I confess that I remain unclear on grace for the present. Part of that is because I see the American Church continuing to add to people's burdens. The great hope of the Christian faith that we we used to sing about in our old hymns was how grace allowed us to lay our burdens down. But today, I wonder if what we do is substitute a different set of burdens. What grace is there for the mom who is juggling four young kids and a job and yet her pastor says she's not doing enough for the Kingdom because she can't find a way to squeeze in teaching Sunday School or going out to feed the poor?
Jesus said this:
Come to me, all who labor and are heavy laden, and I will give you rest. Take my yoke upon you, and learn from me, for I am gentle and lowly in heart, and you will find rest for your souls. For my yoke is easy, and my burden is light."
—Matthew 11:28-30 ESV
What does that look like in the life of the average American Christian today? Are we living by grace? Or are we simply finding ways to sanctify burdens?
In addressing another aspect of grace, I wonder what grace today looks like in the lives of Christians who fail. And not just for moral failures but for people who fail in other ways. What grace exist for the student who went to college, found it harder than expected, and dropped out? What grace exists for the person who is bad with household finances? Where is the grace for the businessman who starts his dream business (or dream ministry), only to watch it fail?
One of the strange trends I see in Christian nonfiction books is an over-reliance on stories of success, as if these stories are always reproducible, even if the underlying conditions that made them possible don't exist elsewhere. More than anything, I'd like to read real stories of real Christians who failed, how they received grace in the aftermath, and how their churches channeled that grace to them. Don't we all need to know how grace works when we fail in those ways too?
What are your thoughts on grace, its availability, and what it should look like in the everyday life of the Church?