I'm not one to scream persecution. I think too many Christians in the West do so whenever they don't get their way. The local school district won't remove Catcher in the Rye from the middle school bookshelves, and some Christian parent pulls out the persecution card and sues.
Meanwhile, in some parts of the Middle East, they cut off your head.
Doesn't seem quite the same.
But cultural and societal persecution is coming quickly to the West. You can't have a socialist government without curbs on religious freedom. One day you can call sin sin, and the next you get tossed in jail for the same. People who keep crying for a nanny state can't fathom what gets lost in the mix. Or else they can and just don't care.
Which is how I ended up reading about the UK homosexual, millionaire couple who sued the Church of England for refusing to marrying them in a church wedding.
Expect to see more of that. It's no longer about rights but about breaking the back of the Church, which was the agenda all along. Besides, the cool, hip sinners have already moved onto demanding polyamory rights. Slippery slope may be a logical fallacy, but it's a societal reality.
I write all that as the setup, because this post is not about text but subtext. But then this is Cerulean Sanctum, and it's usually about reading between the lines.
The uproar in the UK lawsuit is only partially about the Church being legally compelled to marry homosexuals. It's only partially about the reality that the Church of England took "tithes" from those men for years and sort of looked the other way while doing so.
Instead, I want to talk about the Holy Spirit and this situation.
We Christians believe that the Holy Spirit indwells each Christian believer. That's bedrock doctrine. By definition, the indwelt believer IS the Church.
If we know that these two men have sat Sunday after Sunday in a supposedly genuine Christian church comprised of self-labeled Christian believers, how is it that the Holy Spirit has had no effect on them at all?
"Whoa, Dan, how can you be so sure the Holy Spirit has not worked on them?" Well, I think a lawsuit against the church/Church they've claimed to attend for years to compel it to do something it has believed for 2,000+ years is wrong is a pretty good indicator.
This leads to two troubling issues:
1. Many sects within the Christian Church believe the Holy Spirit cannot be resisted ultimately.
2. If these men are surrounded by self-proclaimed Spirit-filled Christians every Sunday for years, yet there is no change in their lives, it must be considered that the people surrounding them each Sunday actually do not have the Holy Spirit living in them.
The two issues go hand in hand.
Regarding the first, I have always struggled with the concept taught in some church sects that the Holy Spirit cannot be resisted when He chooses not to be resisted.
First, we know that the Holy Spirit CAN be resisted:
"You stiff-necked people, uncircumcised in heart and ears, you always resist the Holy Spirit. As your fathers did, so do you…."
—Acts 7:51 ESV
The Christian martyr Stephen made that accusation while filled with the Holy Spirit moments before he was stoned to death. Given that, I think we can assume the theology is right on the mark.
Later in the New Testament, we read this:
The Lord is not slow to fulfill his promise as some count slowness, but is patient toward you, not wishing that any should perish, but that all should reach repentance.
—2 Peter 3:9 ESV
I've never found a satisfying response in light of 2 Peter from those Christian sects that say the Holy Spirit cannot be resisted ultimately. God desires that all should reach repentance. What part of all is debatable here? We know that not all do reach repentance. What then does that mean in light of Acts 7:51?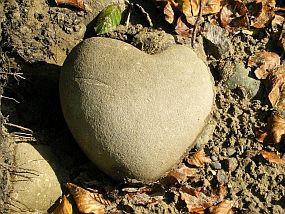 But let's defer to the side of ultimate irresistibility and look at the second troubling issue. In fact, let's push it to its logical extreme.
If a homosexual couple can spend years within a church filled with believers who have the Holy Spirit in them, should it not be assumed that the Holy Spirit is wherever those believers are? You would think. So, what would it mean if these two men, surrounded by hundreds filled with an irresistible Person of the Trinity, do not eventually surrender to that irresistible Person?
Doesn't one begin to wonder if that supposedly Spirit-filled crowd is in fact housing the Holy Spirit at all?
That is the issue that troubles me most.
Every Sunday we have many who sit amid supposedly Spirit-filled people and hear a supposedly Spirit-filled presentation of the Spirit-filled Gospel delivered by a supposedly Spirit-filled leader within the church and the Church, and yet they seem to resist that supposedly Spirit-filled assault with little or no effort.
Does that compute to you?
It doesn't to me. When we look at how remarkably the Church grew in its undoubtedly Spirit-filled nascence and compare that with today, something must be off. We can talk about the fact that the bloom is off the rose with regard to the Christian faith, and that it's not a new phenomenon to people, so its novelty isn't there anymore, but the Holy Spirit is the same, isn't He?
How then can people sit in our churches for years upon years and NOT be changed by encountering the Spirit in His fullness?
We like to point to all sorts of causes, but we're loathe to hold up a mirror and note that the pointed finger may be pointing back at us.
Can a homosexual couple in a congregation of truly Spirit-filled believers successfully resist the Holy Spirit forever? And if they can, what does that say about the truth of that local church containing genuine Spirit-filled believers?
Worse, can anyone in a congregation of truly Spirit-filled believers successfully resist the Holy Spirit forever?
Something to think about.