Rain in abundance, O God, you shed abroad; you restored your inheritance as it languished…
—Psalms 68:9
It rained—finally. Started last night a bit before midnight. Got about an hour's worth.  Then a veritable downpour today from 4:30 to 5:15, before returning from 6:30 till 8:00.
One of the ways we live faith-impoverished lives comes from our lack of connection to the land. I get criticized for saying this, but I think the fact that most Christians have no direct connection to the food they eat allows us to skate by on less faith. You go to Kroger, Safeway, Whole Foods, Wal-Mart or wherever and it's just there, ready to go.
In most places in the world, though, it doesn't work that way. You eat what you farm. For that reason, farmers need real faith. If God doesn't open up the skies from time to time, doesn't halt the locust, doesn't increase calving, doesn't bless the land…well, you're done for.
I'd be lying if I said we grew all our own food. But that's where we wish to be some day—at least enough to keep us alive. Our orchard can't compare with some thousand acre tract of Washington State apples, but it'll do. Some day we'll get our wine grapes in. Plus, we're expanding our vegetable and herb gardens. We collect all the black raspberries and blackberries off our property, too. The wife keeps pressing me for chickens. She mentioned cows and that's when the head started spinning—too much, too much!
I love the black raspberries, but they dessicated on the cane this year. Or they were hard, tasteless nothings. Why? No rain.
Without rain, nothing works. I haven't mowed my grass in three weeks. Only the plantains grow. The grass goes brown and crunches beneath your feet like rice krispies. The ground cracks and threatens to swallow you à  la Koreh. If you're a real farmer and you survey your wilted fields, the desperation oozes out of your heart, etching lines into your brow.
But the rains came. The clouds disgorged the lifeblood of your land. How can you not be thankful? How can you not drop down on your knees, press your lips to the wet earth and say, "Oh, dear God, thank you! Thank you!"
Some people live in their own parched fields, unseen land, the habitation of the soul. And they are dry to the point of blowing away in a meager wind. You can see the dust devils sucking up their life and hurling it far away. Who will bring life-giving water?
You can.
You see, you, my friend, are a fount of Living Water. What flows out of you can restore the driest desert.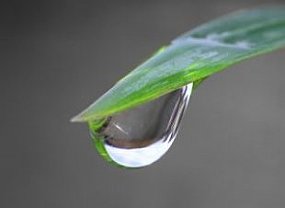 What God asks of His simple clay vessels, each filled with Living Water, is to be poured out. If we're in touch with the Spirit, we need not fear emptying, for He will fill us. But it is not so for those who don't know Him. Nor is it always true for all Christians, for many are so very dry because they've lost connection and drifted off into desolate places.
What good comes from holding back that living water? None. Only when we pour it out does it restore the parched.
Are we properly stewarding God's Living Water?
Don't be afraid to be poured out if you instill life in others. It's your purpose this side of heaven.