"If you love those who love you, what benefit is that to you? For even sinners love those who love them. And if you do good to those who do good to you, what benefit is that to you? For even sinners do the same. And if you lend to those from whom you expect to receive, what credit is that to you? Even sinners lend to sinners, to get back the same amount. But love your enemies, and do good, and lend, expecting nothing in return, and your reward will be great, and you will be sons of the Most High, for he is kind to the ungrateful and the evil."
—Luke 6:32-35
My post the other day ("In the Land of Inconsequence") brought many responses, both in comments and personal emails. My thanks to all who wrote. I appreciate what you add to the conversation.
Whenever I write a post that asks whether we Christians in America have succumbed to some sort of lowest common denominator discipleship, I receive responses from people saying that claiming to believe in Jesus while being a good parent, spouse, neighbor, employee, and so on is enough to ensure fulfillment of the requirements of being a true disciple of Christ.
But I struggle with that answer. And I struggle with it because in the Bible and throughout history true discipleship has never had a lowest common denominator baseline.
Instead, the way of true Christian discipleship is
On a narrow path
Found by few
That requires going a second mile when only one mile is called for
Asks sacrifice of the ordinary to gain the extraordinary
Puts its followers at constant odds with the world
And demands one's very life
Even to the shedding of one's own blood
This is why I wonder if being a nice, caring, saved suburbanite who lives, works, and acts exactly like my nice, caring, unsaved, suburbanite neighbors fulfills the greater calling of Jesus.
"You have heard that it was said, 'An eye for an eye and a tooth for a tooth.' But I say to you, Do not resist the one who is evil. But if anyone slaps you on the right cheek, turn to him the other also. And if anyone would sue you and take your tunic, let him have your cloak as well. And if anyone forces you to go one mile, go with him two miles. Give to the one who begs from you, and do not refuse the one who would borrow from you."
—Matthew 5:38-42
The "you have heard that it was  said…but I say to you…." statements of Jesus should shake us all. I find them disturbing to the status quo because Jesus ratchets the conventional wisdom up a notch and then turns it on its head. In short, He continually shows that the Kingdom of God takes everything you and I accept as normal and claims it has no place in the Kingdom. Why? For even sinners do the same.
And they have conquered him by the blood of the Lamb and by the word of their testimony, for they loved not their lives even unto death.
—Revelation 12:11
If I am content to be an acceptable parent, spouse, employee, and neighbor who does all the things our society claims I should be doing, am I truly a conqueror who loves not his life even unto death? Or have I fallen into the conformity of aspiring to little more than being a nice guy with a nice wife, a nice house with a white picket fence,  and 2.5 nice kids with nice teeth, who will someday go to heaven, amen?
"Enter by the narrow gate. For the gate is wide and the way is easy that leads to destruction, and those who enter by it are many. For the gate is narrow and the way is hard that leads to life, and those who find it are few.
—Matthew 7:13-14
Shouldn't we be a bit more concerned that normal, acceptable, and conformable bear a striking resemblance to a certain wide gate?
The question I ask myself (and you) is this:  Does the Christian life look different?
If it does, then how well should it conform to the lowest common denominator standard that we have erected for it?
The early Church looked at the status quo, then looked at Jesus. And they decided that living a conventional life paled in the light of Jesus. This is why they turned the world upside down.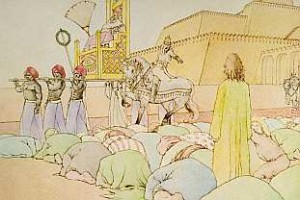 This is why they lived as a community of faith that resembled no community the world had ever seen before. This is why they annoyed the societal authorities. This is why people sought to kill them.
When you live so far above normal, when you serve a God who is so much bigger than the biggest thing you can imagine, it's going to drive the normal people to want to kill you. Because their normal is a puny, shriveled thing that is shown its true nature when the genuinely enormous shows up.
If the devil wanted to truly disarm the Church, I can't help but think that the easiest way would be to convince us that normal is just fine by God.
Explains a lot, doesn't it?