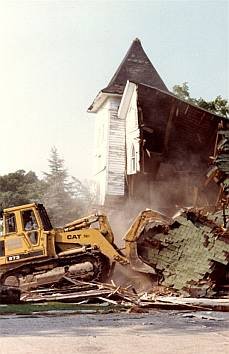 Ever hear the one about things happening in threes?
I'm a Vine Reviewer with Amazon.com, and recently, David P. Gushee's new book A Letter to My Anxious Christian Friends: From Fear to Faith in Unsettled Times came up in my review queue. The title sounded interesting, so I bit on reviewing it. Later that afternoon, Gushee was mentioned on an episode of the podcast Breakpoint. Then later that weekend, I read an article at Religion News Service called "Why Is Christianity Declining?" by…well, I'll let you guess.
So who is David Gushee? Interestingly, he has a Wikipedia entry, so perhaps you should check it out.
Did you? An impressive set of credentials, right? Well, except perhaps for being on the board of directors for Sojourners. But hey, no one's perfect.
But back to his 10 reasons why Christianity is in decline.
So, you read it and came back. Notice what I noticed?
Yes, all those reasons are largely societal perceptions or sociological in nature. Almost none is related to spirituality.
To me, the great failure of contemporary Christianity is that we have turned everything about the faith into something made by man. It's about marketing. It's about demographics. It's about the intersection of faith and science. It's about affluence, antisupernaturalism, family tradition, or some other thing rooted in data points.
What it's almost never about is a person's relationship with God.
Where is that mentioned in Gushee's list? Nowhere. Heck, he even adds seven more points and still doesn't touch on it.
To me, that's an epic fail, because I think the real reason Christianity may be declining in America is a lot of leading Christians have lost all concept of the faith being about intimacy with God.
People today are not meeting God. They aren't experiencing the Kingdom of God either. And people who neither meet God nor experience His Kingdom in its fullness won't stick around in a church more about entertainment and head knowledge than a genuine, living, breathing intimacy with the Creator.
The source of the problem? Christian leaders who are incapable of getting people to that place of intimacy with God. I get tired of the ones who make faith into a solely intellectual endeavor. Or a sociological one. I get upset at leaders who look at every problem and prescribe some kind of change in church programming based on the latest psychology experiments or the trends in marketing espoused by some business guru. More lights! Louder music! The latest fad!
Aren't you sick to death of all that crap? Because that's what it is, utter crap.
When you walk into the assembly of believers in church on Sunday, are you encountering the living God of the Universe? If not, why not? And if not, who can blame you for walking out?
There's a massive number of people getting together each Sunday who have convinced themselves that they have this great Christian thing going in their church, but where is the evidence of God meeting people there in a powerful way that blows away all skepticism? It's not there in most cases. Which is remarkably sad, especially for those self-deceived people.
Some people don't like Leonard Ravenhill, but I have to keep going back to what he said: You never have to advertise a fire.
The buzzword in Christian circles is authenticity. In reality, the most authenticity you can have on any given Sunday—or anywhere at anytime—is to meet God on a regular basis in such a way that His Presence changes you just by being near Him.
I think fewer and fewer people are in that position. I think it's why Christianity may be in decline. We're wandering around lost, telling ourselves that God is here, but at the same time, we're not connecting with Him.
It's not God's fault. It's more the fault of people who tell other people what to do and how to be a Christian, and yet those seekers never connect because the tellers aren't connecting either. That's where we are in America 2016. Tragic, isn't it?
I don't know any other way to fix it, either, than for churches to stop messing with the crap and start getting back to the King and the Kingdom. And that starts with repentance and prayer. Lots of both. Perhaps the kind that will make our church service run too long and force the preacher to ditch the sermon this week. You know, inconvenient stuff that takes us out of our comfort zone and obsoletes all the bulletin bullet points.
So I read why Christian academics and intellectuals think Christianity is in decline, and I wonder how people so smart can miss obvious truths about what is most needed. Because if you and I are not encountering God in profound ways amid the communion of the saints, then nothing in the universe will save us.