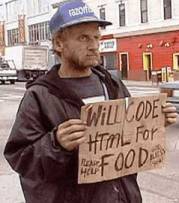 Who says I have to make a spiritual comment all the time? Today, I'm calling all geeks out there to complete a very needed task. I'm putting out a request for the next killer app for bloggers.
This is what I want: A way to track all the comments I leave on other blogs.
That's it. Leave a comment somewhere and this app records the URL of the comment automatically. Make it work with Blogger and Haloscan, for sure. Movable Type, Type Pad, and Live Journal would be essential, too. As for everyone else? Well, you can't please everyone. I'm a Mac guy. I'm used to that.
Even better? You could have it open up and show in a single window your orginal comment and any comments that have come after it. No need to go to the various sites you posted comments to in order to do follow-up.
Oh, and I need it like yesterday.
(BTW, the image is copyright John C. Dvorak, and its history is documented here. Sorry for the lack of previous rights given.)