Thank you to all those who have offered to pray for our orchard that got hit with frost this week. I appreciate your lifting this to the Lord.
And though I had not intended to ask for prayer two posts in a row, I will. While this violates one of the blogging principles set forth by La Shawn Barber, I'm going to blog about being sick.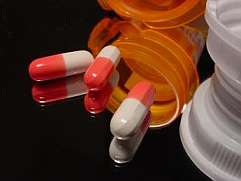 I've been fighting a variety of illnesses since the last week of March and have been to the doctor several times. This includes three courses of different antibiotics and more pills I've chucked down than I can ever remember. And still I am sick.
I would definitely appreciate prayer for healing. The next two weeks are going to be extremely busy for me and I need to be one hundred percent. I've had a sinus infection, ear infection, and now a body-wracking cough and chills. Trying to care for our son and our small farm through this has been difficult. The sum of the work, illnesses, and medications has left me utterly exhausted. While we did manage to get our planting done, everything else I have to do is piling up.
Thanks. I appreciate every person who stops by here and your willingness to be part of the extended Christian family here on the Internet.
Blessings.