Recently, I wrote about issues facing men in our churches (or not in them, as the statistics point out), so I thought I would go over to the Church for Men site to see what men are saying about why they aren't in church or why they feel the Church is not providing what men need. I've popped in there from time to time, and while I'm trying to take part in the conversation, I leave scratching my head.
If one factor defines that conversation, it's the endless chorus of male voices chanting: "Men want a challenge!" Now this confuses me to no end because the list of challenges facing the Church is exceedingly long and certainly daunting if taken at face value. But I want to be game about this need that men have for a challenge, so I'm offering a challenge to every man out there:
Pray more than an hour a day.
That's it. Nothing fancy or earth-shattering. But also nothing more needed or more missing in the lives of churches and the men in (or not in) them.
Can't find anything to pray about for an hour? Then start asking everyone you see on a regular basis what they would like prayer for. Don't make distinctions between Christians and non-Christians; ask everyone. Ask what their greatest need is and start compiling a list that you pray over every day.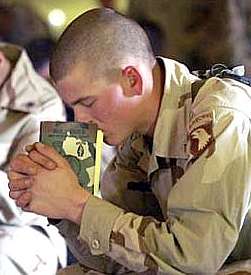 There's not a human being alive who doesn't need prayer. What can be more challenging than meeting a need that goes largely unmet in the lives of every person on the face of the planet?
If you find that's still not filling up more than sixty minutes of your day, then ask God to open your eyes to every issue confronting your own church. Statistics say that most Christian teens are sexually active. Are you praying for the purity of the teens in your church? Christians tend to divorce at a rate not much less than the general public. Are you praying for the marriages of every couple in your church? Satan would like nothing more than divide and sift everyone in your church. Are you praying against the dark forces that seek to destroy every spiritual leader, every family, and every individual within your church down to the tiniest child ?
Okay men, there's the challenge. Get back with me in a month and tell me how it's going.