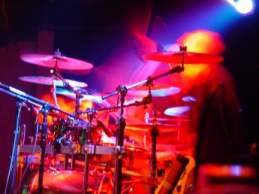 I know a lot of you would like to read something other than the massive blog tome I've been cranking out on The Christian & the Business World, so here's a few questions to get you thinking in a wholly different direction.
The background is that I have returned to the throne—the drum throne that is (what they call the little seat a drummer sits on.) Started playing again in the worship band at the church I now attend. My first "gig" with them was this last Sunday, June 12.
Anyway, the questions are:
What do you think is the most important need for a worship band to address?
What do you feel is routinely missing in today's modern praise & worship music?
What two or three things can a worship band do to make sung worship more worshipful for you?
Thanks in advance for the answers. You can bet I'll be thinking about them and how our own worship band can improve in these areas.
Blessings for the weekend!