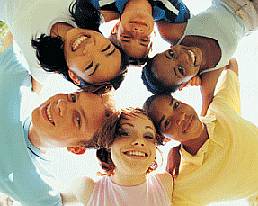 We talked a bit about worship this last weekend and as I was gearing up to take another stab at my series on business, I had this thought
What was my best group worship experience?
I can think of several incredible, life-altering worship times in my 42 years, but as I recall them, one startling commonality appears: Being in one accord.
Every one of the times that I felt like something magnificent was occurring in worship, I can also remember that the people with whom I was worshiping the Lord were all of like mind. Some shared trait bound us together and we all wanted to be near the Lord.
At 14 on the weekend retreat during which I gave my life to Christ, all the people gathered to worship during that beautiful communion time were my close friends from church.
At 16 on an Appalachian work project, it was the fact that we were working toward a common goal.
At 19 on a college weekend retreat, it was that all of us wanted to know God more intimately.
At 20 at the Urbana Conference, all of us were mission-minded guys.
At 22 on another weekend retreat at the same camp I'd given my life to Christ at, it was a reunion of many of the people from the retreat when I was 14.
At 26, working on staff at a camp that was having issues, it was all of us staff that were on the outs with the rest of the camp sharing a communion meal together.
At 27, it was being hauled off with others by the police as part of an anti-abortion rally, even though we'd done nothing wrong.
At 33 on my wedding day, when we worshiped God together in that happy moment.
Those were the memorable ones that seemed to tap something in me. The likemindedness of the people there in those moments captured something in our worship that made each time special. There was a connection that happened on both the vertical and horizontal level that made that communion with the Lord rise beyond the everyday.
The last group worship time I remember as being truly sweet was almost ten years ago. As I look back over that time, the one thing that strikes me is that somewhere along the line likemindedness vanished.
Now my wife and I are very likeminded, almost eerily so. But I wonder what has happened either to us or the cadre of Christians around us that we don't see as many of those life-altering worship times anymore. I guess the sense I have is disconnectedness with other worshipers. The horizontal doesn't seem to be as strong as it once was. Having a group of likeminded people around us appears much harder to come by.
Does anyone else experience this or even understand what I'm talking about?