I regularly read the group blog The Thinklings via Bloglines and today Phil "Don't Call Me 'Shrode'" Schroeder is polling believing Christians on why they have dropped out of attending church.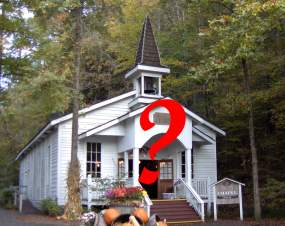 I think this is a good question for any of you who read Cerulean Sanctum and have either dropped out of organized church meetings or have considered doing so.
Even though I have not dropped out, for almost a year my wife and I struggled with the lack of fit we seemed to find in the churches we were visiting. At least for me, if God had not rooted us in the church we are in now, I probably would have considered starting a house church—I was that desperate. 😉
There were several reasons why I found myself on the outs with many current churches:
1. Disparate vision – Like I wrote in today's earlier post "Likemindedness and Life-altering Worship," I don't find myself encountering likeminded groups of believers much anymore. I know that I have long been somewhat of square peg in a round hole just about everywhere I've been in life (for anyone familiar with the book Tales of the Kingdom by David and Karen Main, I'm quintessentially "The Apprentice Juggler"), but there have always been a handful of people who were always on the same page with me. I don't encounter that much anymore. I see some of that in the folks in the church we are in now, so I'm hopeful, but I was losing hope there for a while.

2. Lack of a spiritual middle ground – I find a host of churches to be lacking in the Spirit. The reasons for this lack are too numerous to go into detail here, but many American churches are Christian in brain only. There's a mental assent to Christian doctrine and morality, but there's not a real belief that God is living and moving and speaking. As a result, I've tended to favor charismatic churches. But even there, the opposite problem exists in that experiencing God is everything and scholarship counts for nothing. Check your brain at the door and leave your Bible at home because cross-referencing the Scriptures against the experiences "quenches the Spirit"—or so some say.

3. Lack of a practical middle ground – Is the church doing anything for the Kingdom or is it doing it only for itself? Insular church activities are okay, but if the poor aren't being fed, if the people in the church don't care when one of their own meets with the troubles of this life, their practice is like their dogma—all mental. And while being a real servant is great, real servants must also know the Scriptures and flee bad doctrine. It's the old issue of apologetics versus service and I'm tiring of the ease at which today's churches fall into either camp and not the middle.

4. The Church in America is rushing toward a "remnant" status – I'm not going to say that the Church in this country is totally apostate, but I think it is rushing toward a remnant status. You see pockets of people within churches you know are in the Lord, but it's the larger groups of people who are ever-sampling Him, yet never surrendering to Him that have me concerned. When did the our churches become the places where people don't ever find Christ? I think our rush to seeker-sensitivity led to this permanent "almost born-again" cult mentality I see in a lot of churches. Fish or cut bait. Be in or be out, but don't be a spiritual Mugwump. Those folks only make it miserable for committed Christians and the churches they call home.

5. Restlessness – I'm not sure what God is doing, but a lot of hardcore Christians are restless. Is this a sign the Lord is coming soon? Perhaps. Or it could be that revival is on its way to those who hold hardest to the faith. I don't know. What I do know is that many Christians are sitting in church on Sunday and whispering to themselves, Something's missing. This isn't the way it's supposed to be. And like all restless people, they go searching. Some find what they are looking for once they throw off the perceived shackles of institutional church life, but then others fall through the cracks and wind up lost. Such is the nature of wandering and looking for something one doesn't have.
Those five are my insights. They are conditions that led me to question whether or not I needed to drop out of "the traditional church assumption." I firmly believe that anyone with the Spirit of Jesus living in them is the Church wherever they go. Whenever and wherever they meet with other Spirit-bearers, that fulfills the command of Hebrews 10:24-25:
And let us consider how to stir up one another to love and good works, not neglecting to meet together, as is the habit of some, but encouraging one another, and all the more as you see the Day drawing near.
If it looks like traditional church, fine. If it's a half dozen people singing modern worship songs around a campfire in the U.P. of Michigan on a Friday night out under the starry heavens, that's meeting, too.
I would encourage you to post here or at the Thinklings site. It is important for us to understand why today's churches are not drawing people.