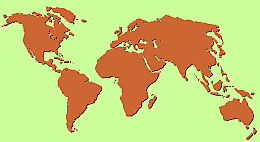 Anyone who follows this blog knows that my wife and I are using sustainable permaculture methods to run our small, organic farm. My wife and I both firmly believe that too many Christians ignore our environmental responsibilities—we need to live on less and take better care of our resources. You've read that here many times, too.
So we have some familiarity with the green movement and the figures it uses to whip up hysteria. The latest viral meme to hit some Christian Web sites (those that tend to lean more left than right) takes the form of this link to My Footprint.
Unfortunately, I know that the figures behind this quiz are highly questionable. Sustainability has been long questioned because the basis often used by green advocates is ridiculously low. Paul Ehrlich, a widely admired green advocate, "prophesied" that the Earth would be ravaged by the time we hit the 1990s. We know that this was patently false, yet green advocates continue to use Ehrlich's ridiculous assertions and statistics in their message.
Most people do not understand how empty our planet is or how much arable land is available. Anyone traveling across the United States can see that this country is basically uninhabited. The actual land used for dwellings is remarkably small. This is true over much of the earth. To see how empty the world is, consider this:
Land masses area total: 1,597,676,459,241,800 sq. ft.
Population estimate for the Earth as of July 2005: 6.5 billion
Now divide the one by the other. You will find that there is nearly a quarter million square feet per person. If you can't sustain one person off a quarter million square feet, well, you're a fool. That's 5.7 acres per person. But since single individuals come nowhere near requiring that amount of food production or housing space, we are nowhere close to filling up the earth or running out of land that can produce food (and the deserts and other uninhabitable spots are more than countered by the amount of water-based living and aquaculture. This also fails to factor in that a third of the population of the planet is not adult; the world's two billion children aged 0-14 require even less space and food production acreage.)
One of the greatest conceits of the figures (go ahead, take the test) is that it operates off surface area and not volume of space. Most resources exist in volume of space, not merely area, but this is never factored into green data. For instance, our food supplies are using volume more efficiently by growing taller plants that yield more vertically or by utilizing stacked growing containers. Nor is living space confined to a single, above-ground story. Much of the world's population lives stacked in multi-floor dwellings. This takes more pressure off the dwelling space requirements. Even then, if you gave every person on the planet a 20′ x 20′ room to live in, restricting those rooms to a single level, the amount of surface space taken would be less than an area the size of the state of Michigan. Again, we are nowhere close to filling up the planet.
And even if this were not the case, we have come long ways in getting more food out of an acre of land. Too often, green advocates use production figures close to worst case scenarios, but those production figures are an order or two of magnitude too low when using today's far more efficient farming methods. Those low figures create fear that puts money into the pockets of the green movement. There are six billion mouths to feed and no indication that we are anywhere close to not being able to feed them. Famine in the 21st century is a political construct. This is true of poverty in general. Without reforming the oppressive governments that typically keep poor nations poor, current efforts to eliminate poverty are misguided and a waste of money and resources. The same folks who are trumpeting the One program or Live8 learned nothing from the abysmal failure of LiveAid.
Yes, we need to live more sustainably, especially in the United States. But as far as requiring more Earths to sustain you or me? Well, you know what Disraeli said about lies, don't you?