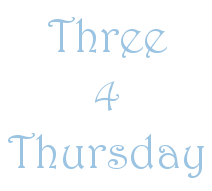 I'd like to start featuring some bloggers I routinely read, who continue to ask tough questions, provide remarkable answers, and who make me think. Because I know that readers of Cerulean Sanctum are an adventurous sort, I hope you'll all try something new and check out three blogs worthy of your time (and your blogroll, too!)
So with these three we inaugurate Three 4 Thursday:
Rob over at Miscellanies on the Gospel (sporting a very familiar Blogger theme, I might add) is not a blogger I see a lot of people quoting, and I hope to add my tiny contribution to rectifying this because his is one of my favorite blogs. He consistently examines deep topics and is unafraid to tackle thorny issues. And while you may like the emotional "go for the jugular" writing here at Cerulean Sanctum, Rob's approach is far more reasoned and more thoroughly presented. In a post much like my own "Nyah, Nyah, Nyah, We're Not Listening!", Rob discusses how the Emerging Church movement is challenging Evangelicalism by avoiding the Gospel reductionism and overdeveloped intellectual assent that is rife in traditionally Evangelical churches. Check out "The Emerging Church Movement and the Gospel: An Invitation to Think." And blogroll this blog; you'll be better for it.
Diane of

Crossroads: Where Faith and Inquiry Meet

is in the midst of an examination of revivals in the United States. It is important for us to understand them because history's revivals influence our current theology and praxis far more than we may realize. Her series starts

here

, and you can follow it through her links to previous posts in her sidebar. (Diane, we'll need a summation post with all the links at the end!) Diane is a long-time Cerulean Sanctum reader and commenter. I appreciate all she brings to her blog and what she's contributed to mine.
Seymour at The Light is Sweet provides a great service to all believers by posting quotes from some of the most Spirit-filled Christians of the past. In an age when so many Christian books seem shallow and our pulpits dispense far too much milk, this blog gives us meat from the hearts of people who knew what it meant to surrender all.
So if you've never clicked on any of these, take a walk on the wild side and check 'em out.