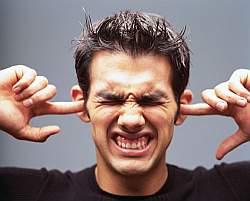 All over the Christian Blogosphere the talk seems to gather sooner or later around one topic: the "Emerging Church" or "Emergent" (although there have been some comments that they are not strictly the same thing, for my purposes here I will consider them one and just call it the "EC" from here on.) While the EC considers itself Evangelical, hardcore orthodox Evangelicals have criticized the EC and buried it under a list of grievances, primarily dealing with aberrant theology and doctrine. Not a day goes by that my Bloglines list of Christian blogs does not feature some blogger shellacking the EC.
I've talked about the EC in several posts on Cerulean Sanctum, but I want to come out and take a firm stand publicly. I do not support the EC as it exists. I agree that it is making concessions with the world in order to make immutable doctrines more appealing to itching ears. Too many of the leaders in the EC are not-so-closeted Universalists and I personally think that guts the Gospel and cheapens the deaths of martyrs. The cross also takes on a bizarre appearance within EC doctrine. Open Theism runs rampant in the movement. I also find it arrogant that the EC has put the Bible on the table in order to analyze the veracity of this truth or that; there are things of God we should never deconstruct. We too easily forget that sin entered the world after these words were spoken: "Did God really say…?"
But I want to proclaim this to all the orthodox believers out there, particularly those who label themselves Evangelicals, and especially if you enjoy throwing stones at the EC. The EC exists for one reason and one reason only: because Evangelicals blew it. The EC exists as a reaction to the fact that Evangelicals have largely failed to address several key aspects of Christian life and practice. The EC exists because some people got sick of the concessions to materialism and worldliness that have defined many Evangelicals in America. The EC exists because far too many Evangelicals in the United States and Canada have lost their first love.
The issue as I see it is that Evangelicals are only compounding the very problems they are accused of by the EC by their constant tirade against it. It is possible to reject the doctrinal aberrations in the EC and still thoughtfully listen to its criticism of today's strain of Evangelicalism. I find that criticism to be highly astute in several areas:
1. Many Evangelicals have lost the mystery and awesomeness of God. They have reduced God to a buddy they carry around in a shirt pocket and pull out whenever they need him.
2. Too many Evangelicals have little or no concern for people who do not possess what they have. I've even sat in on small groups of Evangelicals who spent part of their time griping about the poor around them, but without any sign that they would lift a finger to do anything to help them.
3. Evangelicals look too much like the world and have lost the aroma of God that pervades the saints.
4. Evangelicals are too often enshrouded in a cocoon of doctrine and never come out to put any of it to practical use.
5. Evangelicalism has lost the focus on Jesus and has become self-centered.
Personally, I believe that every one of those skewerings of Evangelicalism by the EC is sadly accurate. The problem is that Evangelicalism is simply unwilling to listen to criticism. Whenever the EC answers criticism from Evangelicals and offers their own criticism of Evangelicalism, the Evangelicals turn into five-year olds with their fingers in their ears chanting, "Nyah, nyah, nyah, we're not listening!"
Now before I get lumped into the EC crowd just because I'm pointing out this truth, I want to appeal to someone well-respected within Evangelical circles who has made every single point I listed above—points that the dreaded EC is making, too. That would be Francis Schaeffer. Schaeffer prophesied (and I believe his voice is prophetic) each of the five points I mentioned above, points that are considered EC today. Despite the near sainthood status that many Evangelicals give to Schaeffer, it appears that too few are willing to listen to the criticisms he leveled at Evangelicalism in North America in books like The Great Evangelical Disaster.
And so I end with this: Take the fingers out of your ears, Evangelicals. Be more willing to admit that you've made mistakes and fumbled the Gospel in several places. No one will hate you for it; in truth, some might be more willing to listen to what you have to say. Keep the Lord's doctrine pure, certainly, but be more human with it at the same time.