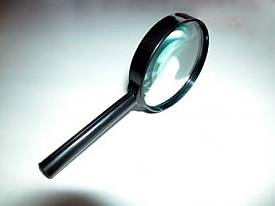 A new randomly posted series that I hope to birth here today is "The Little Things." The devil may be in the details, but the Bible says this:
One who is faithful in a very little is also faithful in much, and one who is dishonest in a very little is also dishonest in much.
—Luke 16:10 ESV
"The Little Things" will discuss those issues in the Christian life, both individually and corporately, that mark the difference between the way of the world and the way of Christ. Do the right little things and you'll be immensely blessed, but do the wrong and—well, you get the picture.
The lead for this is a testy issue: illegal worship. Now I'm not talking about unregistered Chinese house churches, but about a crime that goes on every day across the world.
Most people don't realize that when lyrics for songs are projected in public, those lyrics are subject to copyright laws. Be it a slide of handwritten words on an overhead projector or the latest top 40 Christian worship song on a Powerpoint presentation, if your church doesn't have a license to project those words to the worship song you are singing, it's against the law. Now we can debate whether music intended for praising God should be copyrighted or not if you wish, but the fact remains that almost all of it is. Christian Copyright Licensing International can give you more details.
I can almost hear the collective "So what?" ringing from the masses on this one, but what if God is displeased because we're willfully waving our hand at the whole issue? I for one don't want to think that Christians don't care about this point, but the collective shrug is unnerving. I know some people will say that control of this issue is in the hands of the U.N., the Illuminati, the Tri-lateral Commission, and (for you more liberal readers), good old Yale University's Skull and Bones, but the fact remains. If your church hasn't paid for the license to use the copyrighted songs you are singing in worship, then you are breaking the law.
Zacchaeus, noted Palestine tax hustler, on this issue:
And Zacchaeus stood and said to the Lord, "Behold, Lord, the half of my goods I give to the poor. And if I have defrauded anyone of anything, I restore it fourfold."
The Lord's response was
And Jesus said to him, "Today salvation has come to this house, since he also is a son of Abraham."
—Luke 19:8-9 ESV
How interesting that Jesus absolved this diminutive defrauder and declared him righteous. Zacchaeus uttered no pronouncement of faith in Christ at that point other than to offer to pay restitution. How then can we who have declared our faith in Christ publicly going on flaunting this requirement of our laws regarding paying for licensing for worship music use?
Is your church not doing so well? Maybe this is the reason why. Just another hindrance we should be laying aside. Because in the end, little things matter.