God's been bringing these Little Things to my mind more and more. These posts were supposed to be occasional, but I can't stop noticing them of late. This post is about one little thing that makes my heart sink when I see it.
I'm sometimes clumsy when I confront people, so I hope that I'm not accusatory in this post. Think of this as a challenge to purity of conviction then. We've become inured to the whole issue, and anything we're inured to is for all intentions invisible.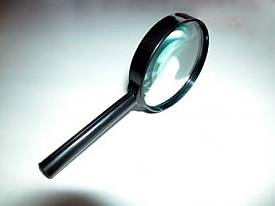 The diabolical part about this particular Little Thing is that it's astonishingly prevalent. I want to believe it's just because it's so ingrained in American culture that we don't think about it at all.
It's being a Zodiac Blogger.
It may seem like a little thing, but my informal poll of people who listed "Christianity" or "Jesus" as a topic of interest in their Blogger profile shows that two-thirds of them have their zodiac sign listed.
God says this:
And beware lest you raise your eyes to heaven, and when you see the sun and the moon and the stars, all the host of heaven, you be drawn away and bow down to them and serve them, things that the LORD your God has allotted to all the peoples under the whole heaven.
—Deuteronomy 4:19 ESV
And also this:
…but test everything; hold fast what is good. Abstain from every form of evil.
—1 Thessalonians 5:21-22 ESV
Horoscopes and astrology fail the test of the above passages. The Father desires that we have no other gods before Him.
This look at Little Things is about just that: the little things that keep us from walking in fullness of life. They may not seem like much, but they still speak to our allegiances. I don't want to show the world I have any allegiances to worldviews that are against the worldview of Jesus Christ. Honestly, I wish I had no idea what my astrological sign was. But this I do know: I definitely won't be putting it out there for others to see. I don't want anything to disqualify my witness for Christ, so I just avoid anything astrological altogether.
If you have a Blogger profile that includes your zodiac sign, consider removing that sign. It may not seem like all that much, but I think God would be pleased if we eliminated those things that might hold us back or divide our hearts.
Brothers, I do not consider that I have made it my own. But one thing I do: forgetting what lies behind and straining forward to what lies ahead, I press on toward the goal for the prize of the upward call of God in Christ Jesus. Let those of us who are mature think this way, and if in anything you think otherwise, God will reveal that also to you. Only let us hold true to what we have attained.
—Philippians 3:13-16 ESV
Update: I've been told—I assume the sources to be good here—that Blogger automatically puts up your zodiac sign if you fill in your birthdate in your Blogger profile. I did not know this. Still, it's a product of the times that these things are assumed as being desirable to know. If I were in the position of displaying that sign, I'd still consider removing my birthdate if all it's doing is generating a zodiac sign.
Some of the commenters here have said that this may be too little a thing to be part of this series, but I don't feel that way. I'm a big advocate of grace and grace will cover these things if we are ignorant of them. But I believe we still need to think about them because too many things like this add up to us being held back by the world.
I've long been convicted of the narrative in Joshua 7 that found the army of Israel being routed in their battles against the Amorites. When Joshua fell on his face before God and asked why, God told him that someone in the camp had taken as plunder of war items that were dedicated to the Canaanite gods, items that God had said must be destroyed (after a previous military victory.) That man, Achan, had hidden these in his tent. Joshua took Achan, his entire family, and all his animals, and stoned them to death. Then he burned everything that had been associated with Achan.
God takes these things seriously. Thankfully, we don't have to suffer stoning for what we've done. I know that I'd be under a pile of stones for the things I've done in my life. But it doesn't mean we should tolerate those things, either, especially when we consider their source.
This last year the Lord has been showing me what I need to purge from my life, more things than ever before. I think what has changed is that I no longer desire anything that will hold me back from being all that He can make me, so now He can get down to work. I'm sharing some of those issues in this series and Cerulean Sanctum, in general. I'm simply hoping my comments on this will help others out there. Whether people can accept these things or not, I understand.
Have a blessed day, all of you.