As many of you know, I own a freelance writing/editing company that is continuing to grow. Being a professional writer has been enjoyable and profitable. You'll also recall that I've been working on a novel that is nearing completion in January 2006.
Fiction is the logical addition to my writing career, so with this in mind I'm heading off to the American Christian Fiction Writers conference in Nashville in a few days.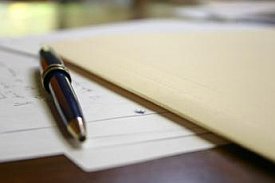 I'll be pitching my book to agents and publishers, so I appreciate your prayers for me over the next two weeks.
This plunge into fiction seems inevitable because I've long been a storyteller. That raucous sound you hear emanating from my ears is the combined thrash of countless unbirthed story ideas clamoring for my attention. People who have read my fiction all agree I have the chops. They like the unusual plots, strong characters, and never-saw-it-coming twists and turns in my work. But my brand of fiction is hard to categorize; when I look for similar authors and storylines, I come up empty. That works in my favor with publishers willing to take chances, but it may leave some others scratching their heads on where to position me in the marketplace. The publishing world is full of landmines.
One of the reasons I write is that all is not happy in the world of novels. I've been disappointed with much of the fiction I've read in the last few years. In an effort to enhance my craft, I've read a host of works by the biggest names in the biz. My exasperation with the shoddiness of what I've perused only strengthens my resolve to not only improve my own skills, but to write the kinds of works that are stirring and filled with characters, stories, and ideas that challenge and thrill readers.
The Christian publishing market is wide open right now, seeing that more readers are asking for solid fictional pieces. I believe I'm getting in at a promising time, and I'm praying my time in Nashville leads to my novels adorning the shelves of bookstores across the country.
I believe Cerulean Sanctum will be moribund until ACFW ends, but if I find a way to blog during the conference, I may let everyone in on my experiences. Not having a notebook computer makes this difficult, but I'm a resourceful guy, so we'll see.
Thanks for being a reader. Given the excellent classes offered during the event, I may even return with better writing skills, so you'll benefit in the end.
Blessings.