Then [Job's] wife said to him, "Do you still hold fast your integrity? Curse God and die." But he said to her, "You speak as one of the foolish women would speak. Shall we receive good from God, and shall we not receive evil?" In all this Job did not sin with his lips.
—Job 2:9-10 ESV
I came back from the men's retreat I was on this weekend, but I did not return as I had hoped. Instead, I came back home weeping on the inside.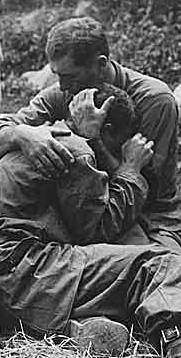 This is not the fault of the good men I grew closer to this weekend, but it has everything to do with the knowledge that even in the midst of good company, people truly do grieve alone. And I'd be lying if I claimed I was not grieving.
How long I've been grieving is a more difficult assessment. Or even what I'm grieving. Grief doesn't always announce itself or its intentions, we just know it's there, brooding. However, having the opportunity to get away and think a little may have jarred loose a few answers to both questions of "How long?" and "What?"
I'm grieving answers to prayer.
I'll say right away that you won't find a doctrine on this anywhere in the Scriptures. If you're the kind of person who detests what you might perceive as extrabiblical conjecture, then reading on will only anger you, so better stop right here and skip to another post. For anyone else, all I ask of you is to listen with the Spirit.
Anyone would think another a fool for grieving those answers to prayer that led to sustained blessings, and he'd be right. What's hard is dealing with answers to prayer that resulted in a firm No. Harder still is the answer that led to blessings that were later taken away before they bore fruit.
The accident that renders the promising athlete a quadriplegic. The new husband who loses his bride to an aneurysm only a month after their wedding. The career dream that was reached, only to be snatched away. The ministry that failed. The stillborn child.
We grieve them, don't we? Olympic glory. A love built for the future. The dream we put our sweat into all these years. The heeded call of God put into action. The child of hope. Once they seemed so beautiful in our thoughts and prayers, but what now? There is only grief.
It's popular in many Christian circles to counsel people that it's perfectly fine to get mad at God. But what of Job's response? He called such advice foolish and did not sin with his lips by giving in to such hellish temptation. Grief, though, was permitted, and so he grieved in the sackcloth of his acquired poverty and the ashes of his dreams.
Job's question is a penetrating one: Shall we receive good from God, and shall we not receive evil? As for me, I believe Job is right, but I must also believe that grief is allowed when the prayers of the righteous result in something other than their intentions.
I was once told the story of a teen who was one of those extraordinary few who God revealed the purposes of her life. He gave her an enormous burden for the African people, so much so that her whole heart was given to missions at a young age. Upon graduating from high school, she worked hard to raise support and was richly blessed by the many people who loved her and caught her vision. When she was selected to join a team going to the African interior, the joy was palpable. She boarded the plane, set foot in Africa, and promptly died from a fever within days.
As far as anyone knows, she never got to share the message of Christ with anyone there. Thousands had prayed for her, hoped for her, and supported her. But what of all those prayers?
I used to think there was always a lesson in happenings like this, but I'm not certain I do any longer. Some things just are and perhaps all we can do is grieve those answers to prayer that we do not understand. I know people who have driven their faith into the ground looking for a lesson from some horrid injustice that pierced them, but what if there is no lesson other than the way of suffering? What if grief is its own lesson?
Some things make no sense. I know that I reflexively must understand why something is the way it is. None of us says, "Thy will be done!" easily, particularly when that will seemed to lead to ruin. Why did that bright girl with a heart as big as the world start and end her journey the same week? My only response is grief for a prayer answered in a way I cannot comprehend.
We in our household appear to be receiving an extra portion of these questions whose only answer is grief. The way of the cross? I would like to think so. Maybe this is the ultimate meaning and source for that manner of grief, but like a fog it rolls in and obscure everything else before burning off in a shimmering morning that paints diamonds on the grass.
Let us accept good and endure evil. And may our faces be turned to the Son.