Death and life are in the power of the tongue….
—Proverbs 18:21a ESV
And the tongue is a fire, a world of unrighteousness. The tongue is set among our members, staining the whole body, setting on fire the entire course of life, and set on fire by hell. For every kind of beast and bird, of reptile and sea creature, can be tamed and has been tamed by mankind, but no human being can tame the tongue. It is a restless evil, full of deadly poison. With it we bless our Lord and Father, and with it we curse people who are made in the likeness of God.
—James 3:6-9 ESV
At a healing service about ten years ago or so, I was called upon by my church to help with prayer. As a prayer team leader, I was charged with making sure we met the prayer needs of the church while directing the trained volunteers who would pray for others after our meetings. That role was an uplifting ministry that I cherished.
The healing service began and all of us were praying with folks who came up front. After a time, the crowd thinned and I found myself alone. Only then did a small man dressed in a suit entirely in white approach me. He was timid, and with an Eastern European lilt he could only say, "Please pray for me."
When I laid my hands on him, I knew immediately that this man did not covet my prayers for a nice day. Asking God to reveal the man's true need, I couldn't avoid a word that kept coming back to me again and again: Curse.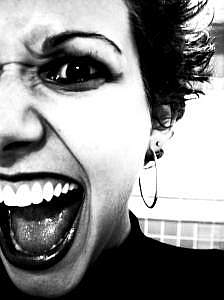 So I prayed that the blood of Christ would sever the power of all curses on this man's life. The instant I spoke this out loud, he began screaming and fell to the ground.
Being a prayer team leader, I swiftly summoned several others to come over and continue praying with me over this man. We prayed for about ten minutes and I witnessed his countenance utterly change from terror to peace. If ever I needed a video camera to record that kind of profound release in a tormented soul, that moment called for it more than almost any other I've witnessed in my life.
Talking with this man afterwards, he told me that back in his native country his mother had crossed the local sorceress, who responded by placing the entire family under a curse. The man's mother, pregnant at the time, later died in childbirth. The girl that was born was left profoundly retarded as a result of problems in delivery. The man's brother soon afterwards went insane and was institutionalized—until the country's asylums were dismantled in the wake of the fall of the Soviet Union. The man's father went blind a few years after his wife died and now rarely spoke.
In my years as a Christian, I've prayed for a lot of people, but there have always been times when people I've prayed for embellish their stories. However, as much as I was beginning to think that this little man standing in front of me now was perhaps adding to his tale, he silenced my doubts by leading me to the back of the church where his blind father, deranged brother, and mentally disabled sister sat as quietly as could be expected, the brother only occasionally muttering something unintelligible.
I was shocked.
I was also called away for another prayer need. Telling the man I wanted to talk with him more, I went back up front, prayed for the new need that had arisen, then immediately walked back to that broken family, discovering they had left quietly in the sanctuary's semi-darkness, only one of them finding release.
Too much "Evil Eye" for you? Not the kind of thing you've ever encountered? Well let me share a more personal story.
I got a call from a friend one night who was truly suffering. He'd come to the decision that he could not be a Christian any longer, and as we talked he confessed that the reason he was abandoning the faith was me.
No Christian ever wants to be the stumbling block for another person's faith, and I was taken aback by the comment, searching through every conversation, every encounter I'd had with this friend for as long as we'd known each other. Nothing I'd said or done to him was coming back to me.
Then my friend confessed that the reason he'd come to this decision was from noting all the rotten things that had happened to me in the years since he'd known me. I won't go into that list here, but my friend recalled every item on that list in excruciating detail, some of which I had never told him, but he must have gotten from other sources. He summed up his comments by saying that he could not reconcile how a Christian like myself, who had given everything up to follow Christ, could possibly go on considering what I'd experienced. If "God" truly existed, what kind of god could he be if he treated his own servants so badly, returning faithfulness with pain? My friend also wondered if I was merely deluded for pressing on in faith with a smile on my face and hope still in my heart. It was for these reasons that he could no longer believe anything in the Christian faith was true. I was the example that proved his deduction.
We continued to talk for hours after. Only later did I learn that our conversation had probably saved his life. But what I didn't know was what was going on in spiritual places because of what he said to me one humid summer evening long ago.
I think it was just today that I came to grips with his pronouncement. In some of my darkest times, what he said to me that night haunted me, and only now do I recognize it for the curse that it was. Only now do I feel like the black power of that comment has been rendered inert in the light of Christ.
How many of us are laboring under a curse someone glibly tossed out a decade or more ago? What words carelessly spoken—or even spoken with intent—have pinned us to the ground or left us flailing?
Many of you reading this are not charismatics; I understand that. But this isn't pew-jumping, bark-like-a-dog charismania, folks. Curses are a dark demonic oppression that gets called into use to destroy, undermine, hamper, and diminish the work of God in our lives. If we do not take curses before Him and let His Strong Right Hand shatter them, they can persist and wreak havoc.
Ask God today to expose curses that have been pronounced over you in your life. Some of you may have had parents that said things to you that have bound you in chains for years. Get those before God. Or you may have said things with a fire on your tongue that has burned people so fiercely that they can't get over it. Pray that out and let God show you who you need to approach in forgiveness. Too many of us speak carelessly and unleash things that can damage many.
Life and Death are in the power of the tongue. Therefore, speak life and not death. Our witness for the Lord depends on it.