My church held their annual picnic this last weekend. One of the church-wide contests was a chili cook-off. I told my wife I was going to enter and win the whole thing. This blogger can cook a scrumptious bowl of chili. I whipped up a batch, entered it, and indeed won the whole thing.
Upon winning that coveted blue ribbon, I let out a huge whoop, raised the hands high, and let everyone there know that I was triumphant. And later I felt bad about doing so.
Was it too much? The more time passed, the more I felt that I'd been a tad over the top in my moment of chili glory. While the other contestants trash talked before the judging, I was relatively quiet—I let the chili do the talking. But afterwards I really wanted to rub their noses in it, at least a little.
It's been a tough last few weeks. The tenor in the household is "muddle through" stage. That stage has been common around here far more than it should, and I've grown to hate it. You feel that things will never get better.
So is a little rejoicing for a silly contest too much? Can a little hollering be good for the soul here? Or am I just exulting at someone else's expense?
Sin is perpetually crouching at the door. The smell of it lingers in the air. And though we are told to flee it, despise it, and rail against it, there are times that I must confess—to my own dishonor—that I love it.
During my tenure in the Lutheran Church, I never got a handle on Martin Luther's famous aphorism on sin that he penned to his buddy Philip Melanchthon 484 years ago:
If you are a preacher of grace, then preach a true and not a fictitious grace; if grace is true, you must bear a true and not a fictitious sin. God does not save people who are only fictitious sinners. Be a sinner and sin boldly, but believe and rejoice in Christ even more boldly, for he is victorious over sin, death, and the world. As long as we are here [in this world] we have to sin. This life is not the dwelling place of righteousness, but, as Peter says, we look for new heavens and a new earth in which righteousness dwells. It is enough that by the riches of God's glory we have come to know the Lamb that takes away the sin of the world. No sin will separate us from the Lamb, even though we commit fornication and murder a thousand times a day. Do you think that the purchase price that was paid for the redemption of our sins by so great a Lamb is too small? Pray boldly—you too are a mighty sinner.
Now that I am older, though, it makes more sense to me. As much as I am commended to loathe sin, there are still parts of me that love it just a little more than I should.
I love/hate reveling in accolades bestowed upon me.
I love/hate watching foes—real or imagined—get their comeuppance.
I love/hate convincing myself that I'm smarter than most people.
I love/hate gazing just a breath too long at the pretty young thing in line ahead of me at the grocery store.
I love/hate cutting down an opponent with a witticism worthy of Oscar Wilde or Will Rogers.
I love/hate knowing that the terrorist who just blew himself up and took out a dozen other people is going to burn in hell for eternity.
I love/hate watching haughty people taken down a peg or two.
I love/hate the dark fantasies I entertain.
I love/hate my own pride.
As a younger Christian, I would deceive myself into thinking that I wasn't like this. But faux innocence is just that—a denial of the reality that in this world there will be sin. No one is immune no matter how perfect the persona we project to others.
I think the Christian blogosphere perpetuates this. Cruise around enough blogs on a daily basis and it's fairly easy to see the hate portion of the love sin / hate sin equation. Yet there's not quite as much of the love sin portion displayed.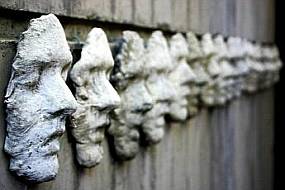 Too much confession may alienate the more righteous readers. Too much confession may cast doubt on how well ANY of us Christians are doing in walking the walk as well as we talk the talk.
Far more of us are dying for confession than almost anything else, I suspect. Whitewashing takes exorbitant amounts of work, and legions of Christians are propping up an image of a fictitious sinner, the error Luther warns of, to their own detriment.
I crave grace, don't you? What a marvelous gift, sublime, healing, and transforming all in one. Because of my love for grace, I can never be a fictitious sinner. My errors will always be bold. I can only ask that my prayer of repentance be yet bolder still.
Are you laboring to maintain the façade of a rosy righteous glow when darkness has become your friend instead? Christian, stop fighting and let someone else know!
…for all have sinned and fall short of the glory of God….
—Romans 3:23 ESV
There is peace in confessing your sins not only to God, but to someone else:
Therefore, confess your sins to one another and pray for one another, that you may be healed. The prayer of a righteous person has great power as it is working.
—James 5:16 ESV
Don't be a fictitious sinner. It will steal your joy away. If you love a particular sin, acknowledge that before someone else and allow someone to draw up alongside you in the name of the Lord:
…a three-fold cord is not quickly broken.
—Ecclesiastes 4:12
Most of all, rest in the peace that the Lord Jesus bought with his own blood, the very blood that takes away the sins of the world. He said:
Peace I leave with you; my peace I give to you. Not as the world gives do I give to you. Let not your hearts be troubled, neither let them be afraid.
—John 14:27 ESV
Beloved, now is the day to come into the light of Christ's grace.