He who dwells in the shelter of the Most High will abide in the shadow of the Almighty. I will say to the LORD, "My refuge and my fortress, my God, in whom I trust." For he will deliver you from the snare of the fowler and from the deadly pestilence. He will cover you with his pinions, and under his wings you will find refuge; his faithfulness is a shield and buckler. You will not fear the terror of the night, nor the arrow that flies by day, nor the pestilence that stalks in darkness, nor the destruction that wastes at noonday. A thousand may fall at your side, ten thousand at your right hand, but it will not come near you. You will only look with your eyes and see the recompense of the wicked. Because you have made the LORD your dwelling place— the Most High, who is my refuge— no evil shall be allowed to befall you, no plague come near your tent. For he will command his angels concerning you to guard you in all your ways. On their hands they will bear you up, lest you strike your foot against a stone. You will tread on the lion and the adder; the young lion and the serpent you will trample underfoot. "Because he holds fast to me in love, I will deliver him; I will protect him, because he knows my name. When he calls to me, I will answer him; I will be with him in trouble; I will rescue him and honor him. With long life I will satisfy him and show him my salvation."
—Psalms 91:1-16 ESV
With "bird flu" now in Romania and Turkey, knocking on the gates of Europe, the HN51 virus is poised to mutate into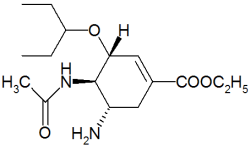 something far worse than the bird-to-human disease that it now is.
We should be praying, folks. This flu kills half the people it infects.
Should HN51 and its variant, HN52, turn into a human-to-human transmitted disease, a world of hurt could be coming our way. It's fully resistant to two of the anti-virals that previously mitigated the disease slightly (amantadine and rimantadine) and is showing increasing resistance to oseltamivir, more commonly known as Tamiflu.
It surprises me that more Christians are not discussing this global threat. If we believe in the power of God through prayer, do we believe that God can halt this disease before any more people die, and especially before it makes a leap from bird-to-human to human-to-human transmission, as so many influenza strains typically do?
Why the silence? I believe that a lot of Christians don't believe that God will protect us from disease if we abide in Him. Even if we did not believe that at some point, we better believe and be praying to that effect now.
Father God, we pray in the name of Jesus that you would show us mercy. By your great strength and supremacy over all that is, mitigate the effects of this influenza so that it does not result in a pandemic. We pray that you would not only halt its spread, but render it harmless to us as it mutates over generations. We lift Europe and Asia now to you, Lord, that you would watch over the people there and keep them safe in your arms. Your people are petitioning you now that You spare us this threat and the grief it would cause. Be our shield and our defender, Father. May all who put their trust in You be spared from the pestilence that comes in the darkness, now and in days to come. For your glory Lord, we pray these things. Amen.