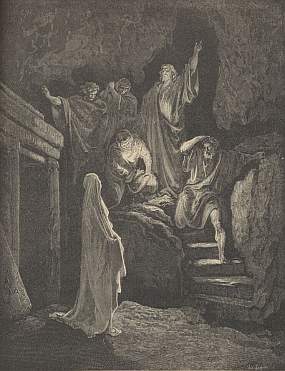 This is one of the most difficult posts I've ever written on Cerulean Sanctum. I have no doubt that there will be people who delist me from their blogroll or who will never visit this blog again simply because of this post.
But what I write here is something that has to be said. I hope you will read it to the end.
A couple weeks ago, Christianity Today online posted an article entitled "Can I Really Expect God to Protect Me?" (I would encourage everyone to read the entire article.) The author of the post goes on to relate the tragic story of her daughter who was born with a rare metabolic disorder and later died. This was indeed a heartrending event. However, I believe the author proceeds to deconstruct Psalm 91 and come up with a new theology that attempts to shoehorn her personal tragedy into the Scriptures and pull out something that does not exist.
Psalm 91 says:
He who dwells in the shelter of the Most High will abide in the shadow of the Almighty. I will say to the LORD, "My refuge and my fortress, my God, in whom I trust." For he will deliver you from the snare of the fowler and from the deadly pestilence. He will cover you with his pinions, and under his wings you will find refuge; his faithfulness is a shield and buckler. You will not fear the terror of the night, nor the arrow that flies by day, nor the pestilence that stalks in darkness, nor the destruction that wastes at noonday. A thousand may fall at your side, ten thousand at your right hand, but it will not come near you. You will only look with your eyes and see the recompense of the wicked. Because you have made the LORD your dwelling place— the Most High, who is my refuge— no evil shall be allowed to befall you, no plague come near your tent. For he will command his angels concerning you to guard you in all your ways. On their hands they will bear you up, lest you strike your foot against a stone. You will tread on the lion and the adder; the young lion and the serpent you will trample underfoot. "Because he holds fast to me in love, I will deliver him; I will protect him, because he knows my name. When he calls to me, I will answer him; I will be with him in trouble; I will rescue him and honor him. With long life I will satisfy him and show him my salvation.
—Psalms 91:1-16 ESV
The disturbing issue for me is that the author takes the promises of Psalm 91 and spiritualizes them in such a way that they no longer refer to earthly protection, but instead have been translated into a form of gauzy spiritual protection by bringing in Matt 10:28a ("And do not fear those who kill the body but cannot kill the soul….") and using it as a means of tempering the starkly-framed promises of Psalm 91. The end result of her exposition of Psalm 91 is that God doesn't truly mean He'll protect our physical selves, only our spiritual selves. The pestilence may very well kill the body, but it cannot kill the soul—we should be satisfied with that.
But is that what Psalm 91 really says? Or has the article's author tried to bend the Scriptures to account for her experience?
The more I stand back and look at the state of Christian belief in this new millennium, the more I see that our theologies, while good on the surface, are rife with our own unbelief. We insist that the Bible is God's inerrant word (and this I wholeheartedly believe), the very truth that frames our salvation and belief, but why then do we spend so much time trying to construct theologies that negate the truths we supposedly endorse?
Nothing makes me grind my teeth more than attending a funeral of a person who died from an illness, especially a protracted one, only to hear a half dozen people offer the same platitude: "Well, he's finally healed." What I have to ask is if Jesus or one of the apostles would have been satisfied with that assessment? Can you imagine that coming out of the mouth of Paul? Or who here, no matter how much of the Bible is believed to be inerrant, has the nerve to go up to James and say, "In this case, you really messed up in your chapter 5, verses 14 and 15!"
Am I the only one that thinks that the sort of attitude displayed by those half dozen at the funeral is nothing more than a theology of unbelief? A theology that says, "Plan A didn't work, so we now have to settle for Plan B, shoehorn it into our experience, and explain it to our kids." Despite the fact that we say the Bible is true, I suspect that many Christians today—even seasoned apologists—simply don't believe it is, so they dance around the things they don't believe and try to come up with verses and high-sounding enlightened spirituality to explain away the stuff that doesn't seem to work.
Since we're on the topic of healing, here's a well-known passage to illustrate:
Of David. Bless the LORD, O my soul, and all that is within me, bless his holy name! Bless the LORD, O my soul, and forget not all his benefits, who forgives all your iniquity, who heals all your diseases, who redeems your life from the pit, who crowns you with steadfast love and mercy, who satisfies you with good so that your youth is renewed like the eagle's.
—Psalms 103:1-5 ESV
Okay, so here's the checklist of what God does here:
Forgives sins—check
Redeems our lives—check
Crowns us with perpetual love and mercy—check
Satisfies us with good—check
Renews our strength—check
Heals all our…hey, wait a second!
Wait a second, indeed. We seem to have no problem believing all the things we just checked off above. I would dare say there's not a person reading this now who doesn't assent to the truth that God makes those checked items happen. But do we believe God heals all our diseases? He said the pestilence wouldn't touch our tent in Psalm 91, didn't He? He ended that passage by saying something about blessing the righteous with long life. Well?
A few months ago I blogged on the least-believed verse in the Bible, Mark 11:23:
Truly, I say to you, whoever says to this mountain, 'Be taken up and thrown into the sea,' and does not doubt in his heart, but believes that what he says will come to pass, it will be done for him. (ESV)
Suffice it to say, Jesus drops a nuke here. When that ICBM explodes in our lives, I think too many of us erect a theological shack over the resulting crater and say to others and ourselves, "Move along! Nothing to see here." Still, the crater and its fallout persist. Our choosing to ignore their existence is not a measure of God's truth, but the tortured theology we've created to explain away the fact that whatever the mountain was that we needed moved, it dauntingly stayed right were it was.
Call me immature in my walk, if you wish to. Trot out all the great theologians over the centuries to lambaste what I'm saying. All I know is that I can't escape the fact that far too many of the Bible's promises, especially the most outlandish ones that don't always fit with our experiences, are glossed over by Western Christians, explained away by complex manipulations of the Scriptures to suit whatever our personal blind spot is.
Why can't we just come out and tell the truth here? The problem is not the Bible; it's us. It's our lack of faith. It's our doubt. We can't help but doubt because we live in a world where divine healing or exorcisms or mountains being cast into the sea are ruled out scientifically. Though Peter can't be considered the be all and end all of scientific knowledge, he knew that a man can't walk on water. Yet for a brief moment he was able to—until he let his earthly knowledge overrule heavenly faith.
Sadly, our willingness to believe only our eyes, our microscopes, our newspapers, or what our grandma says has led us to question the veracity of the Bible. In the end, every last one of us has traded at least some part of the truth of God for a lie. We've constructed a portion of our personal theology on smoke because some verse or passage in the Bible, from our point of view, just can't be saying what we think it's saying.
So when we doubt and use our manufactured theology to prop up that doubt, we create a self-fulfilling prophecy that ensures that none of those promises of God that we have a hard time swallowing will ever come to pass. We can believe 98% of what the Bible says is the truth about the world we live in and the world we cannot see, but what about that other 2%? How easy it is to find a religious-sounding means of explaining it away!
I am by no means a saint. If I listed all the sin in my life that routinely holds me back, you'd never visit this blog again. I'm sure if you posted your sins, there'd be a collective "Ooh!" from a lot of people, too. All have sinned and fall short of the glory of God. My heart truly goes out to the author of the Christianity Today article. This post is not meant to burden people, but to ask if we are as bold in our faith as we think we are. It's a gut check for us to examine ourselves and see how we fail in regard to truly believing the promises of God.
I confess my own theology is not 100% faith-based. I'll come right out and say that there are Scriptures that I mentally assent to, but deep in my heart I don't fully believe them. One that always trips me is from the most beloved Psalm in all the Bible:
Surely goodness and mercy shall follow me all the days of my life….
—Psalm 23:6a
I don't always believe that goodness and mercy will follow me all the days of my life. Too often I think that surely calamity and injustice will follow me all the days of my life instead. However, what I can't escape is that somewhere in my inner man, in that place where the Spirit of God dwells, I know that if I truly did not doubt what Psalm 23 said, my life would be radically transformed.
That kind of unflinching, unwavering faith is the call of God, not only for me, but also for you. To fully believe all the Bible at face value is what God asks of us all. He doesn't want us constructing negations of His truth from other parts of His truth. He wants us to believe and not doubt.
Are the dead still raised? Or are we going to try to spiritualize the raising of the dead by saying that God doesn't really raise anyone physically from the dead anymore, but just spiritually, while piling on a heap of other Scriptures that speak tangentially to the issue we would rather not confront at face value? What other tough sayings or issues in the Bible cause us to trot out our finely-honed theological excuses? Are we ready to abandon them at the foot of the cross and take on a faith that believes the mountain can be cast into the sea?
Say it with me now: "I believe, Jesus! Help my unbelief!"