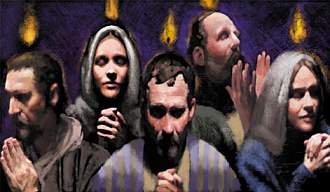 Well, like a zombie, the issue of the cessation of the gifts of the Holy Spirit raises its head yet again as The Pyromaniac just can't let the issue drop without getting in the last word. The biggest gift that seems to stick in his flaming craw is that of the gift of prophecy, so he takes up the sword yet again—even as the cessationist vs. charismatic debate has cooled elsewhere—to take one last whack at post-apostolic prophets.
I like reading Pyromaniac, and Phil certainly contends for the Gospel. More power to him! His upholding of the authority of the Scriptures in an age of concession is admirable. He's ten times the thinker, theologian, and Christian that I am, and I mean that. But in light of this whole debate, I don't get some comments from him in his latest post, "Some Say It Blundered":
The continuationists' response to this series of posts continues to amaze and amuse me. No matter how many times I point out that I am not making an argument for cessationism—not trying to make one; wasn't planning to make one; wasn't talking about the issue; did not even intend to bring it up when I began this series—we still have this flood of frantic comments from people who think cessationism is the issue and who demand to be given proof-texts so that they can dismantle whatever exegetical claims cessationism might rest on.
So Phil, who vehemently claims he's not talking about cessationism here, ends his post this way:
So here's my challenge to those continuationists who insist that the problem of bogus prophecies pales in importance compared to the exegetical issues raised by cessationism: Name one faithful modern prophet whose prognostications are both objectively verifiable and always one-hundred percent accurate. Because that is the biblical standard (Deuteronomy 18:20-22).

If you argue (as most do) that the gifts being practiced today are different in quality from the gifts possessed by the apostles themselves, you are actually arguing for a kind of cessationism yourself. If no one can identify a prophet who meets the biblical standard for basic accuracy, the question of cessationism is essentially moot anyway.
Let me understand this then. He's never talked about cessationism being the issue? Then why does he end his post saying that if he's right, then the whole point is that the gift of prophecy has ceased?
Hmm.
Honestly, I have no arguments with Phil on the issue of bogus modern day prophets. There are too many charismaniac flakes out there spouting man-inspired nonsense passed off as "The Word of the Lord." What I do object to is his massive implication that just because there are a whole host of nutjobs out there claiming to be prophets that the real gift of prophecy ceased the second the Apostle John drew his last breath. (Using Phil's same arugment, there are a whole host of lousy preachers, but that doesn't mean preaching has passed away, has it? Or did I miss something?)
Phil's burden of proof for charismatics is to spotlight one modern prophet who is 100% accurate. For the purpose of exceptions, I would like to turn that around on Phil (especially in the light of his post's conclusion above) and have him prove that beginning the day after John died, not a single accurate prophetic word has been uttered by anyone in the rest of Christian history. Now that's a burden of proof!
Phil's biggest beef with prophets seems to be that of their predictive role. He's skipping over the prophetic role of exhortation and correction, which it would be hard to claim has passed away. That being the case, I would offer A.W. Tozer as a prophetic voice. He most definitely exhorted and corrected the Church in his day. And forty years after his death, his writings look more prescient than ever as he describes the death throes of evangelicalism, so perhaps he was even predictive. No one would claim that John MacArthur fails to correct wayward charismatics in the manner of a prophet or that C.H. Spurgeon's collected sermons no longer exhort today's men and women. It's that predictive part that is troublesome.
But if the gift of prophecy is merely predictive, then what to make of this:
But this is what was uttered through the prophet Joel: "'And in the last days it shall be, God declares, that I will pour out my Spirit on all flesh, and your sons and your daughters shall prophesy, and your young men shall see visions, and your old men shall dream dreams; even on my male servants and female servants in those days I will pour out my Spirit, and they shall prophesy.
—Acts 2:16-18 ESV
And
Pursue love, and earnestly desire the spiritual gifts, especially that you may prophesy. For one who speaks in a tongue speaks not to men but to God; for no one understands him, but he utters mysteries in the Spirit. On the other hand, the one who prophesies speaks to people for their upbuilding and encouragement and consolation.
—1 Corinthians 14:1-3 ESV
And
Thus tongues are a sign not for believers but for unbelievers, while prophecy is a sign not for unbelievers but for believers. If, therefore, the whole church comes together and all speak in tongues, and outsiders or unbelievers enter, will they not say that you are out of your minds? But if all prophesy, and an unbeliever or outsider enters, he is convicted by all, he is called to account by all, the secrets of his heart are disclosed, and so, falling on his face, he will worship God and declare that God is really among you.
—1 Corinthians 14:22-25 ESV
The nature of the gift doesn't appear in these passages to be focused on predicting the future. This does not mean that the gift never entails prediction:
Now in these days prophets came down from Jerusalem to Antioch. And one of them named Agabus stood up and foretold by the Spirit that there would be a great famine over all the world (this took place in the days of Claudius). So the disciples determined, everyone according to his ability, to send relief to the brothers living in Judea. And they did so, sending it to the elders by the hand of Barnabas and Saul.
—Acts 11:27-30 ESV
And
On the next day we departed and came to Caesarea, and we entered the house of Philip the evangelist, who was one of the seven, and stayed with him. He had four unmarried daughters, who prophesied. While we were staying for many days, a prophet named Agabus came down from Judea. And coming to us, he took Paul's belt and bound his own feet and hands and said, "Thus says the Holy Spirit, 'This is how the Jews at Jerusalem will bind the man who owns this belt and deliver him into the hands of the Gentiles.'" When we heard this, we and the people there urged him not to go up to Jerusalem. Then Paul answered, "What are you doing, weeping and breaking my heart? For I am ready not only to be imprisoned but even to die in Jerusalem for the name of the Lord Jesus." And since he would not be persuaded, we ceased and said, "Let the will of the Lord be done."
—Acts 21:8-14 ESV
Agabus predicts a famine that Luke confirms. The response by the believers was to prepare to meet the need that would erupt; the Church was guided to react to a specific event in the future. In this way, Agabus' prophecy mirrors that of Joseph in his predictive interpretation of the dream of pharaoh.
We also hear about the prophetic daughters of Philip, but curiously, their prophetic utterances are not recorded. God did not deem them—whether they were predictive, exhortative, or corrective—worthy of inclusion in the Scriptures. Luke does take care to note the existence of these gifted women, however.
Lastly, we see Agabus again. His prediction as to how Paul would be taken into custody not only foretold future events, but steeled the young Church to the truth that their leading light was going to be extinguished.
Prophecy has a number of components, obviously, but Phil is solely troubled by the predictive aspect of the gift and still wants proof of modern prophets.
Is John Knox prophesying the future a good enough example? Over at The Calvinist Corner there are records of Knox, plus Calvinist Robert Fleming (who studied under the tutelage of one of the framers of the Westminster Confession), and friend of Knox, George Wishart, predicting the future, having visions and dreams, hearing the audible voice of God, and other "charismatic" experiences. Click on the links. As Dave Barry says, "I'm not making this up!"
Modern? No. Inspired by God in the manner of the gift of prophecy and the description of the operation of the Spirit as spoken by the prophet Joel and referenced by Peter on Pentecost (Acts 2:14-18)? Absolutely!
Anyway, there's a post-death-of-the-Apostle-John set of examples right from Calvinist history. I'm sure there have been plenty more like them in the post-apostolic age among Calvinists and non-Calvinists.
The problem, and I'm totally sympathetic to Phil's complaint about bogus prophets, is that the scientific rationalism and "We're rich and enlightened so we don't need God" attitude only kills the miraculous among people who don't believe it. While this may be prevalent in the West, it does not negate the fact that God is going to do supernaturally miraculous kinds of things (that some claim don't happen anymore) among people who still take Him at His Word concerning the gifts. This is why revival is sweeping China and other less scientifically-indoctrinated cultures and is missing the West.
In other words, I think that predictive prophetic utterances that are truly of the Lord are rare in the West. But experience does not trump Truth! That our experience of prophecy today is rare does not mean that it is non-existent or rare in places around that world where those who speak predictive prophecy prophesy in obscurity.
God has a history of taking away from those who do not appreciate what He has given them and giving to people who do. Just because the wind has died down here in our anti-supernatural, rationalistic country does not mean that there are not prophets even now speaking to the Church in China and in places where people are willing to believe because belief is all they have.
So no, I can't give Phil names of any 100% accurate predictive prophets in 2005 (because tracking supposed prophets is not my calling), but neither can he prove that none exist elsewhere in the world, either today or at any time since the death of the apostles—especially since some leading Calvinists of yesteryear were definitely prophesying, hearing the audible voice of God, and having visions in a Europe not yet overcome by anti-supernaturalism and the Enlightenment.
And that's all I have to say on this topic.