This is the seventh (and last) in a series of posts covering the hidden messages that sneak into American churches' proclamation of the Gospel. For more background, please refer to this post.
Though today's post addresses what is a hidden message, I don't have any answers for it. I'm throwing it out there because I hear it all the time. I'm hoping that you readers have more insights than I do. (I'm also going to ask readers to bear with me because I sense this post is going to ramble excessively.)
It's one of the most prevalent excuses I encounter in my area of the country for people not attending church. Men who avoid church like the plague cite it more than any other issue for their lack of attendance,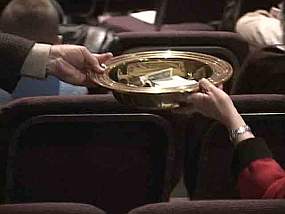 from what I've personally heard. The older the commenter gets, the more likely this issue sticks in his craw.
It's money.
No, I'm not talking about folks who are ticked off that the church is preaching budgeting instead of preaching Christ, it's their complaining about the church asking for money. It's as if no other message can get through once the offering plate is passed. The "There they go again shilling for money!" lament is raised and the sermon message is now permitted to go in one ear and out the other.
"Always with the money thing! Why do they need so much money, Martha? The pastor makes twice what I do and I caught a whiff of Chanel No. 5 on his wife when I walked past. How much does that stuff cost? A thousand dollars an ounce? And he's asking for money? How low can you get?"
Now I'm not naive enough to think that the majority of these grumblers aren't using money as an excuse to sleep in on Sunday or to justify their rejection of Christ. But why do I hear this complaint so often if it didn't carry some actual weight?
At one point in my life I attended a well-known Presbyterian church in the toniest suburb in Pittsburgh. The corporate elite of Pittsburgh occupied the pews every Sunday. It had a chauffeur's entrance. The choir (paid) consisted of the leads of the city opera. When industrial meltdowns and financial strife rocked the area in the mid-Eighties, this church was targeted by activists and their Sunday services disrupted for no other reason than wealth. The church I left last year was suburban, middle to upper-class, and rarely asked for money. The pastor had a hard time bringing up the issue. As a result, this huge church was always encountering one cash flow problem after another. My present church is more rural ("penturbian," if you want the exact, trendy word), is lower to middle-class, has a mini-sermon about tithing shared by one of the elders every Sunday, and seems to do a reputable job staying in the black. Not only that, but every time there is a need over and above the regular giving, people always come through with an amount that surprises me.
I'd love to draw some kind of conclusion about these three churches, but there are too many variables. One never asked for money because it was loaded. One rarely asked for money, should have had it in abundance anyway, but didn't. One talks about money every Sunday, doesn't seem to want for it, plus it always has reserves. No matter the case, money plays into every aspect of how each of those three churches operate. That's true with every church, every ministry. But is there a way to downplay the whole issue of money so that those who complain that churches are only out for money have no more ammo for their assault?
It's Christmastime, so we're now under bombardment by Project Angeltree, Chuck Colson's organization. We donated money to them a few years ago to send the kids of prisoners to summer camp. Christian camping being near and dear to my heart, I couldn't say no when my wife suggested it, even though it violated our decision to only give to charities run by people we personally knew. Starting in September, I swear we get letters from Angeltree every week, plus scores of e-mails.
I'm not the type to complain that Christians are always asking for money, but the sheer volume of mail we get from Angeltree makes me uncomfortable. Whatever we gave a few years ago has been more than eaten up from the cost of their mailings to us.
So I can understand how some people have a problem with Christians asking for money. This isn't to say that money is not needed, but the sheer amount of money that some churches and ministries burn through is incredible. To sustain whatever they're doing, more and more money is solicited. But is this hidden message that churches and parachurch organizations are always on the lookout for cash really a message we want to send, even if it is not entirely true in every situation?
Now I can't speak for parachurch organizations, but I wonder if the way we do church today relies too much on money. I think our buildings are too expensive, not only to build, but to maintain. I don't see in Acts that the early Church spent their money on buildings. Nor was there much in the way of expensive programs and church initiatives. Benevolences were turned around and filtered back to the neediest in the community of believers in the early Church, yet the way we collect church monies today often leaves the givers in the dark as to where their money went. And too often, overhead consumes the majority of money rather than benevolences. Shouldn't we be asking if we're handling money for the Kingdom in the best way possible?
Shouldn't that advise the way our churches are structured and operated? What if a church met in homes rather than an expensive church building? What if the pastoral staff went unpaid (or partially compensated), but was large enough so that one person didn't carry the whole ministry load, each staff member living the life of a genuine "tentmaker"? What if we went beyond tithing and set everything we caretake for the Lord on the table so that anything needed was available to anyone at any time for his or her need? What if the Church functioned to unite giver and receiver personally, rather than having our monies go into an ethereal pool of funds? What if our newfound financial reliance on each other allowed us to step out of the rat race? What if churches didn't ask for money at all?
Most of all, what if the Church handled money so uniquely that it took away any objections by those who believe that Christianity is all about the Benjamins?
I know that Americans are funny about money, but I still hold out hope that one day our churches will look different because we've found a better way to handle it. The house churches in China are destitute compared with the Communist-approved state churches, but somehow they keep growing, effectively making disciples in a way we in America long ago forgot. While there are many mitigating factors in that growth in Chinese house churches, I've got to believe that our attitudes toward money in the American Church are partly to blame for our lack of effectiveness. We've built some fancy churches and installed some expensive programming, but what do we have to show for it?
Is it possible that something better could arise in the American Church if all our money disappeared some day? Maybe if it did, the lost might be able to look beyond the our hidden message of money and to the true heart of the Gospel.