To the pure, all things are pure, but to the defiled and unbelieving, nothing is pure; but both their minds and their consciences are defiled.
—Titus 1:15
I was reading through Titus last night and this well-known passage struck me in a way I had never considered before. Convicting and challenging, the words of Paul revealed a great truth.
In 43 years on this third rock from the sun, one of the worst personal qualities I've developed is cynicism.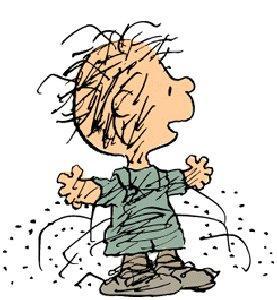 Always considered to be an idealist as a younger man, I was branded a hopeless optimist. I remember working at a Christian summer camp and having one of the girls on staff ask me why I was happy all the time. I was stunned that she even asked such a question. Wasn't a sunny disposition the fruit of God's Spirit living within us?
But over the years, disappointments and the profound corruption of mankind set in. You read the newspapers, watch the TV news shows, and the relentless depravity of it all sets you adrift on a lonely raft in a sea of bad news. Time has a way of turning idealists into despairing optimists, then into world-weary pessimists. Sooner or later, everything (and everyone) gets tainted one way or another.
You see the signs soon enough. Your snide remarks interrupt TV shows, movies, ordinary conversations, even church, a litany of snarky asides that would put Mystery Science Theater 3000 to shame. You comment on everything. Maybe you even start blogging.
A child's birthday party becomes an opportunity to pontificate on the creepiness of clowns or the corporate calculation that gave us Chuck E. Cheese and his rodent ticket redemption center packed with two cent toys manufactured in Togo. Your husband announces he's going shopping for you and your first thought is, Does he know of any stores besides Home Depot? Or when the football star scores a touchdown, you ponder just how many pounds of steroids he has in his system. You hope one day to see the perfectly coiffed pastor's wife with her hair looking like a rat's nest—just once.
The football game, birthday party, shopping trip, even someone we like—doesn't it feel good on occasion to feel superior? To long for that bit of dirt that taints to our advantage?
I hate being cynical. It may make for clever writing, but cynicism and sarcasm only exist to take what is pure and slop it up. In its worst guise, it skips the cleverness altogether and goes right for crassness and sleaze. Your neighbor who talks family values every chance she gets is probably hiding her affair with the mailman. The nice, helpful single guy at church who just turned thirty is most certainly gay or a pedophile—there's got to be something wrong with him. Can't we all think of a million situations?
But to the pure, all things are pure. The birthday party is a wonderful expression of togetherness and love for a child. The football game is a time to enjoy life with friends. The husband's offer is a response of tenderness. The pastor's wife with the nice hair is one of God's favorite people. That second thought never slips through the neurons. The pure enjoy life free of subtitles and running commentary.
New Year's resolutions fall prey to snark about as well as anything, but for 2006 I know that my resolution is to allow the pure to stay pure, to develop a countercultural mind that steers clear of tainting what is pure. I don't need to feel superior all the time or to impress my own deviance onto people and situations that never asked for my clever wit.
It's all too easy to descend, isn't it?
Before year's end, I'm going to write about developing the mind of Christ for 2006. Letting the pure be pure is just one step in that direction. Stay tuned.