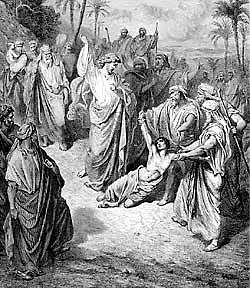 "O unbelieving generation," Jesus replied, "how long shall I stay with you? How long shall I put up with you? Bring the boy to me." So they brought him. When the spirit saw Jesus, it immediately threw the boy into a convulsion. He fell to the ground and rolled around, foaming at the mouth.Jesus asked the boy's father, "How long has he been like this?"

"From childhood," he answered. "It has often thrown him into fire or water to kill him. But if you can do anything, take pity on us and help us."

"'If you can'?" said Jesus. "Everything is possible for him who believes."
—Mark 9:19-23 NIV
If you've been following along with the McCheyne Bible reading program, you will have encountered this passage in the last few days. The NIV translates that last verse differently than most other versions, but I like the way it reads in that translation. It drives the point home.
"'If you can'?" said Jesus.
When I picture this encounter, I can see Jesus taken aback. He looks at the father of this demonized child with an unverbalized question spanning His face, Did he just say what I thought he said? It's not hard to envision Jesus shaking his head in response. O unbelieving generation….
Nothing has troubled me more in the last few years than the truth that we American Christians sound too much like the boy's father in this passage from Mark. "If" crops up repeatedly in our prayers. It's a carefully placed word—a qualifier that serves as our out when things don't go as planned. A convenient way of not being disappointed with God when the answer to our prayers is not what we'd hoped.
But who is the disappointing one here? The Lord or us? Is His response "A few things are possible for him who believes" or is it a more forceful answer?
Why then do we believe for so little? Why do we let our eyes tell us what is real rather than letting Christ reign?
In my post about the miraculous stories surrounding the revival occurring in India, a commenter said that she longed for them to be true. That broke my heart. I think it should break the heart of every person in America who claims to be a Christian. What's so damning about the truth behind that statement is that it doesn't have to be that way. We don't have to settle for crumbs from the Master's table. Adding the qualifier "if" is the primary reason we are where we are.
The father of the boy answers Jesus one verse later:
Immediately the boy's father exclaimed, "I do believe; help me overcome my unbelief!"
—Mark 9:24
Immediately. Did we catch that? The father knew he'd underestimated Jesus and immediately saved face. His petition is instructional.
How much do we believe for great things from God? Shouldn't our daily prayer be that Christ in His fullness overcome our unbelief? Or are we content with Jesus looking into our eyes and wondering how we can believe for so little?
If Jesus can? Of course, He can!