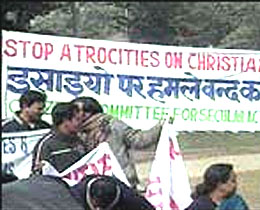 I don't know where I got the link to Chandrakant Chavada's blog, but I've been gratefully following the stories he writes of revival in India. The Holy Spirit is moving in power there, with healings, miracles, and transformed lives. I've been reading his blog for a couple months now and wanted to tell everyone who reads Cerulean Sanctum of one particular post he put up late last month.
In "Conversion By Force," Chandrakant tells of an upcoming initiative in India to persecute Christians by forcing them to recant their faith in Christ. This diabolical program is set to start February 11. A half million Indians have volunteered to perpetrate this injustice on their own countrymen, on those who have joined the growing Christian population in India.
So I'm putting out a call to all the readers of Cerulean Sanctum to pray that the Lord will totally thwart the plans of those who are hoping to force Christians in India to recant their faith in Christ. I would also ask that those of you who have a blog get the word out on this gross attempt to destroy the lives of our fellow Christians. But most of all, be praying for the persecuted Church in India.
Thank you.
Tags: India, Persecution, Revival, Holy Spirit, Church, Faith, Christianity, Jesus, God