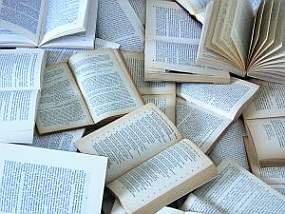 Beaten like a redheaded stepchild.
It means to be singled-out for abuse, since a redheaded stepchild will ultimately look different from the rest of the children in the family and is probably the one child who looks most like the absent parent.
Last week, a couple commenters wondered why I was writing fiction instead of nonfiction. Acquainted with my writing here at Cerulean Sanctum, they thought it odd that I was abandoning what they felt was a career in nonfiction (presumably through authoring books that teach on a topic) to focus on novels.
That's a legitimate concern. I answered in the comments of that post, but have pondered that question on and off over the last week. The Lord hasn't really burned any one issue into my soul in the last few hours, so rather writing nothing for today, I thought I'd expound on this issue of the worthiness of Christian fiction and my reasons for pursuing a career as a novelist.
My wife calls me a Renaissance Man because there's not a field I can't discuss to the point that I could fool most people into thinking I worked in that field. I've had so many disparate jobs in my life (and even more suggested to me by well-meaning advocates) that I'm most definitely a jack-of-all-trades. Couple that with reading on everything from Einstein to Frankenstein, and you have the a modern day equivalent of the 17th century's Man of Letters.
Unfortunately, our culture has no real place for Men of Letters and jack-of-all-trades. The Renaissance is long past. Ours is the Age of Specialists. Anyone who's recently applied for a job that asks for skills in twenty-five areas knows that fulfilling twenty-three of those areas won't cut the mustard nowadays.
The same is true of nonfiction in the Christian world.
Read the dustjacket of your average Christian nonfiction title, noting the author bio. Every time I do so, I'm amazed that the author even has time to write considering all the degrees he's earned, the ministries he's founded, and the sheer number of leadership roles any one person can have. I think, Man, he's got to have a butler or two to juggle all he does. It takes me six hours just to cut the grass!
That reality carries ramifications.
One of the unfortunate truths of publishing is that the average Joe doesn't want to read another average Joe's wisdom. Because I own a freelance writing business, I routinely get folks asking me if I will write their life story. Usually the requester tells me that their story is so jaw-droppingly astonishing that I'll be seeing my name in The New York Times Book Review if I write up their life.
I tell every one of those folks the same harsh truth: Unless you're a recognizable name, no one cares how amazing your triumph over adversity is. Joel Osteen overcomes a case of dandruff? A million copies sold from WalMart alone. You regrowing your limbs after having them bitten off by 20-ft. tall radioactive squirrels escaped from a top secret government lab? Well, maybe your mama will read it if it goes on sale at Big Lots.
Likewise, should I try to write for the nonfiction market, unless I can produce an author's bio that makes me sound like Rick Warren, John MacArthur, Thomas Aquinas, C.S. Lewis, St. Augustine, and Max Lucado rolled up into one, no one will pay to read what I think about some issue in the Christian Faith. Free blog? Maybe. And even that's a struggle.
Fiction, though, is a horse of a different color. I don't have to be the pastor of the most mega-full megachurch of them all. I don't have to have been the past director of the American Red Cross, Operation Mobilization, and Youth for Christ all at the same time. My wife doesn't have to be the founder of six different women's ministries now in ninety-seven countries and counting. My kids don't have to be the valedictorian and/or first team All-American. I don't have to have an Oscar, Tony, Emmy, Clio, Patsy, Gold Medallion, or any other award. I don't even have to say that I once taught a night class on self-esteem at a community college.
All I have to do is write a good tale.
The irony of the whole fiction vs. nonfiction divide is that the divide itself doesn't truly exist. In a novel, I can do as much teaching as St. Paul if the story will bear it. Through stories, I can actually expound on three or four different subjects that the buyer of a nonfiction book would never tolerate mixed together. You could never sell a nonfiction book on classical music + quantum physics + chastity, but you could write a novel that encompasses all three.
Here's another case in point about the nature of nonficti0n (facts) vs. fiction (narrative). I'm going to toss out two teachings by Jesus. Without thinking about them too much, what are the details and points from each?
The Olivet Discourse
The Parable of the Good Samaritan
Okay, so not everyone knows Matthew 24 as the Olivet Discourse. What if I said it was Jesus' teachings on the Last Days? Does that help with the specifics at all? No?
We remember virtually every parable, don't we? Narrative resonates. I was talking with a librarian today at my local library, and we were discussing how easily we remember the great novels of our youth, their messages still echoing deep within us. The Old Man and the Sea. The Red Badge of Courage. Little House on the Prairie. The Cay. They stick with us because their narrative framework carries within it embedded truth. When we recall the story, we recall the greater meaning behind it.
I can't remember all the points from all the sermons I've heard. (I don't think I'm the only one, either. So fess up!) But I can recall most of the stories told within those same sermons.
My personal library is four feet to the left of me as I write. All the titles are jumping out, but as I scan each one, many of their facts are lost to my foggy memory. Narrative, on the other hand, pops right into my noggin. I can't recall all the details from Dietrich Bonhoeffer's Ethics, but I can envision almost every scene from the book next to it, C.S. Lewis's The Great Divorce.
I'm nobody in the grand schemes of the publishing world. No marquee flashes my name in neon. You can't get my teaching tapes from CBD. But what I can do is tell a tale well. And as any publisher or agent will tell you, that's exactly what their dying for in the fiction market, embedded truths and all.
Christian fiction may seem like the redheaded stepchild to some folks, but right now, there's no better way to bring the truth of Christ into a world that gets bombarded by facts each day. "Tell me a story," is a phrase that hints at the captivating power of narrative. Whether we're seven or seventy, when we're engrossed in a story, our souls are open to the Lord.
Tags:
Fiction
,
Nonfiction
,
Facts
,
Narrative
,
Story
,
Teaching
,
Church
,
Faith
,
Christianity
,
Jesus
,
God