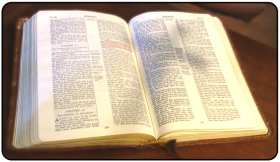 Doesn't everyone think that his church is a Bible-based church? Is there anyone out there who goes to a church she thinks is NOT based on the Bible?
One of the phenomena I finally noticed this year is the fact that we have three kinds of churches we consider to be Bible-based churches. I can't believe I never realized this before this year, but I suspect the level at which we discern where our leaders are taking us is far lower than our comfort zone. We just don't want to admit it.
Many of the battles we see within Christendom, particularly in America, are rooted in a fundamental problem with how we view the authority of Scripture and its complete, unified message.
What do I mean by this?
Well, take a sampling of churches you've been a part of in your walk with Christ. They're all Christian churches and as such would be considered an outgrowth of the New Testament as it adjoined and grew out of the Old Testament.
But what too often happens in our churches is that we fall into a divisive view of Scripture that pits the New Testament against the Old and vice versa. From this internal battle, we generate a litany of disagreements about how to properly walk out the Christian life.
Walk into a Pentecostal church and you'll notice something right away: there's a lot of quoting from the Old Testament. When Pentecostals talk about God's promises, there's quite a dependence on the OT for those promises. Here are a few you'll hear:
I would have fainted unless I had believed to see the goodness of Jehovah in the land of the living.
—Psalms 27:13 MKJV

He who dwells in the shelter of the Most High will abide in the shadow of the Almighty. I will say to the LORD, "My refuge and my fortress, my God, in whom I trust." For he will deliver you from the snare of the fowler and from the deadly pestilence. He will cover you with his pinions, and under his wings you will find refuge; his faithfulness is a shield and buckler. You will not fear the terror of the night, nor the arrow that flies by day, nor the pestilence that stalks in darkness, nor the destruction that wastes at noonday. A thousand may fall at your side, ten thousand at your right hand, but it will not come near you. You will only look with your eyes and see the recompense of the wicked. Because you have made the LORD your dwelling place— the Most High, who is my refuge— no evil shall be allowed to befall you, no plague come near your tent.
—Psalms 91:1-10 ESV

Bless the LORD, O my soul, and forget not all his benefits, who forgives all your iniquity, who heals all your diseases, who redeems your life from the pit, who crowns you with steadfast love and mercy, who satisfies you with good so that your youth is renewed like the eagle's.
—Psalms 103:2-5 ESV

Praise the LORD! Blessed is the man who fears the LORD, who greatly delights in his commandments! His offspring will be mighty in the land; the generation of the upright will be blessed. Wealth and riches are in his house, and his righteousness endures forever.
—Psalms 112:1-3 ESV

For I know the plans I have for you, declares the LORD, plans for wholeness and not for evil, to give you a future and a hope.
—Jeremiah 29:11 ESV
Naysayers on the NT side don't want to hear about prosperity, health, strength, smarts, wealth, and all that stuff. That was the Old Covenant; the message of the New Covenant is 180 degrees the other way. For them, this OT stuff runs counter to how they read the NT. Their theology comes back with the following:
"Do not lay up for yourselves treasures on earth, where moth and rust destroy and where thieves break in and steal, but lay up for yourselves treasures in heaven, where neither moth nor rust destroys and where thieves do not break in and steal. "
—Matthew 6:19-20 ESV

Then Peter said in reply, "See, we have left everything and followed you. What then will we have?" Jesus said to them, "Truly, I say to you, in the new world, when the Son of Man will sit on his glorious throne, you who have followed me will also sit on twelve thrones, judging the twelve tribes of Israel. And everyone who has left houses or brothers or sisters or father or mother or children or lands, for my name's sake, will receive a hundredfold and will inherit eternal life.
—Matthew 19:27-29 ESV

And [Jesus] lifted up his eyes on his disciples, and said: "Blessed are you who are poor, for yours is the kingdom of God. "Blessed are you who are hungry now, for you shall be satisfied. "Blessed are you who weep now, for you shall laugh. "Blessed are you when people hate you and when they exclude you and revile you and spurn your name as evil, on account of the Son of Man! Rejoice in that day, and leap for joy, for behold, your reward is great in heaven; for so their fathers did to the prophets. "But woe to you who are rich, for you have received your consolation. "Woe to you who are full now, for you shall be hungry. "Woe to you who laugh now, for you shall mourn and weep. "Woe to you, when all people speak well of you, for so their fathers did to the false prophets."
—Luke 6:20-26 ESV

But God chose what is foolish in the world to shame the wise; God chose what is weak in the world to shame the strong; God chose what is low and despised in the world, even things that are not, to bring to nothing things that are, so that no human being might boast in the presence of God.
—1 Corinthians 1:27-29 ESV

To the present hour we hunger and thirst, we are poorly dressed and buffeted and homeless, and we labor, working with our own hands. When reviled, we bless; when persecuted, we endure; when slandered, we entreat. We have become, and are still, like the scum of the world, the refuse of all things.
—1 Corinthians 4:11-13 ESV
I find it surprising that Pentecostals and charismatics are basing their theology on Acts 2, yet they go back to the OT for their promises. On the other hand, those Christians who wouldn't be caught dead in a Pentecostal church sometimes act as if 2 Timothy 3:16-17 wasn't true:
All Scripture is breathed out by God and profitable for teaching, for reproof, for correction, and for training in righteousness, that the man of God may be competent, equipped for every good work.
—2 Timothy 3:16-17 ESV
An attitude exists that somehow relegates the OT to the past, as if the NT is the only real Scripture for the Church (even if the apostles and NT writers were only quoting from the OT). It's like the OT ceased to exist once the canon of the NT was completed.
Let me tell you: the people in the seats are confused.
The hot new word in Christian circles is worldview. We love the idea of a coherent Christian worldview, don't we. I know I do.
But if that's true, then why are we stuck in one testament or the other? Wouldn't a comprehensive Christian worldview fully integrate the Old Testament life of the faithful with the New Testament life of the faithful?
Unfortunately, you see battling testaments everywhere. One that burst on the scene recently was the environmental care flap after a few Evangelicals asked us to ponder global warming. The NT supporters instantly let us know that the Revelation tells us it's all going to burn, while Matthew's inclusion of Jesus' Great Commission makes it the only thing we as a Church should be doing. The OT supporters, on the other hand, went back to Genesis and reminded people that the original call to stewardship of Creation that God gave Man in the Garden has not been rescinded.
And the mouths started yappin'.
Are we afraid of the Whole Bible? Are not the Scriptures the unified words of God to Man? If so, then why do we pit the OT and NT against each other? Where is our scholarship that makes it possible for us to be blessed by God with health, wealth, and might , while also understanding that in this world we will have trouble, sickness, and poverty, even in the Church?
I'd love to see an American Church that is routinely operating out of both the New Testament and the Old, not afraid to link both. Instead we get the NT aficionados battling the OT aficionados. Every so often we do get that third way, the Whole Bible Church, but in my travels it seems to be a rarity. Still, it's a rarity we need to ensure is less rare every day.
What will it take to make us a "Whole Bible" Church?
Tags:
Bible
,
Scripture
,
Old Testament
,
New Testament
,
Church
,
Faith
,
Christianity
,
Jesus
,
God