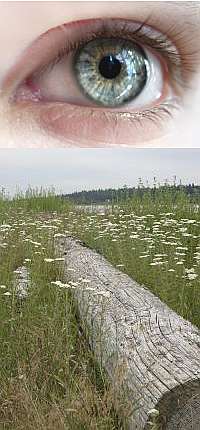 For with the judgment you pronounce you will be judged, and with the measure you use it will be measured to you.
—Matthew 7:2 ESV
On Monday morning, I left a comment over at Slice of Laodicea that as of the time of this writing (after midnight on an early Tuesday) still wasn't posted. I can tell you why.
In "The Fundamental Failure to Understand What 'Church' Is," an article is quoted that posits an imaginary conversation between a "real" Christian from the 1st century Church (1STCC) and one of those Emerging/Seeker-Sensitive "modern Evangelicals" (MOD-E) from a contemporary church. The conversation goes something like this:
1STCC: "What happened at your church today?"

MOD-E: "Oh, we had impressionistic dance, a dramatic presentation, a puppet show and a short message. What happened at your church?"

1STCC: "Two people were judged by God when they lied about their giving; the whole church has been overcome with awe over the wonder of God's holy and powerful work in our midst; and while the community around us has been gripped with much fear over these things, still the Lord is constantly adding to our number… but uh, no puppet shows…and what's 'impressionistic dance?'"
Now I'm no fan of the silliness that often passes for "ministry" in some churches in America. There are some highly questionable gatherings masquerading as churches today. They're often crossless, Christless, and a whole lot of other "-lesses" that should never be the case in any church that advertises itself as being Christ's Church.
Still, it's not hard to imagine a similar conversation between a modern day member of a "Church That Believes It Is Doing It Exactly Right" (CTBIIDIER) and that same 1st century churchgoer:
CTBIIDIER: "Unlike those pseudo-Christians in the Emerging and Seeker-Sensitive Churches, in OUR church service we sang a hundred year-old hymn accompanied by our church organist, prayed for fifteen minutes, sat quietly for an hour-long message, everyone had a thimble-full of grape juice and a sliver of dried bread, and we left knowing that we were doing church exactly as our Lord intended."

1stCC: "We met in the house of Daphne and shared a bounteous meal together, breaking bread and partaking of the Lord's Supper. We praised the Lord, too, with tambourine and cymbals, just as it is written in the final of the Psalms. We heard the word of God expounded, then one of our prophets stood up to tell us that we needed to prepare to send relief to Asia because a famine was coming. A dear sister spoke in a tongue and the interpretation was given by her daughter, edifying the whole gathering. Our dear brother Romulus requested prayer from the elders for his lameness. They prayed over him, anointing him with oil, and he was healed. There was a word of knowledge given that one of us was cheating a brother out of money. That man came forward, confessed, and was forgiven. While we were praying in the Spirit afterwards, the Lord spoke to us and told us to set apart Augustus and Ephraim to minister the word of God to Egypt, and this we did, sending them off with great rejoicing."

CTBIIDIER: "Oh."
You can take a point so far…and then you can take it even further.
We who stand in judgment of others must ensure that we understand that the judgment we use to judge others is the same judgment we must be willing to accept against us. I know that I try to be exceedingly careful what I say on this blog, because I understand that it truly is a preaching and teaching tool. The Lord will hold me accountable for what I write here. And I never want to say anything that will bring dishonor on Him or on His True Church. I take that responsibility seriously.
So I don't understand other blogs that are so keen to get it right that they slam everyone who is not them.
Folks, there is a way to correct and there is way not to. It takes no effort to tear into a ministry that needs rebuking. We're experts at rebuking in today's Christian circles. On the other hand, it takes the grace of God to approach people who are wrong and correct them with the measure we would want given to us when we stumble.
I may have already crossed the line and been uncharitable here. I really loathe writing these kinds of posts anymore because it is so easy to be meanspirited.
What measure do we want to boomerang back to us? That is the very measure we should be using with anyone who claims to be a Christian.
Tags:
Judgment
,
Hypocrisy
,
Humility
,
Church
,
Faith
,
Christianity
,
Jesus
,
God