Don't have a lot of time to write today. Normally Monday's post sets the stage for what follows the rest of the week. But after posting such heavy topics last week, I thought I'd go a little lighter today.
What does your church do that's weird or goofy? Is there some quirky thing that you hope visitors don't notice lest they leave scratching their heads, never to return? Does your pastor always tell a real groaner of a joke before his message? Does your church sign regularly contain such quirky knowledge as "Seven days without prayer make one weak"? Is the sanctuary carpeting shag?
An Israeli flag appeared out of nowhere at my church two Sundays ago. Someone put it up smack dab in the center of the wall at the back of the stage.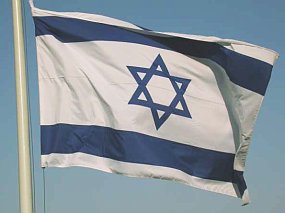 It hangs right over my head while I'm playing drums. It's probably the most obvious item in the sanctuary.
I'm majorly leery of the flag. Everyone seems to have an opinion on it. People are choosing sides. One side says that the flag represents the Church as the new spiritual Israel. The other side says the flag is nothing more than a political expression for a country that has rejected their Messiah. One side: that vine is the root of the Faith. The other: the branches were cut out and we were grafted in. One side: Salvation came from the Jews. The other side: Jews that reject Christ wind up in a not-so-nice place.
I'm on that other side; the flag of the political State of Israel doesn't belong in our church, much less center stage. So all I have to say is this: "Oy Vey!"
Actually, what I'm thinking is, And just how do I explain this to visitors? Or Is this something that brings our church together or only splits it?
Ah, those church quirks!
Tags:
Church Quirks
,
Goofy
,
Weird
,
Israel
,
Israeli Flag
,
Church
,
Faith
,
Christianity
,
Jesus
,
God