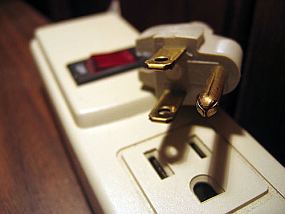 Today, I'll wrap up my rant that began in "On Millstones and Disconnects, Part 1" with the hope that we'll find a better way to bring biblical truth into everyday reality.
Recently, I was prepping for a small group Bible study I would be leading, when I pulled out some old reference material I had from a well-known, well-funded, conservative Christian organization. Their emphasis is on preventing further erosion of a particular societal and biblical norm. I've had a lot of respect for that group over the years, and they were formerly headed by theologians I admire.
As I was looking through one particular section of the material, I ran across something that was highly condemning. Worst of all, it was highly condemning of our situation. So I contacted that organization to tell them our story, to ask them what we should have done differently, and to ask what their organization was actively doing to ensure that no family found itself in the same situation we face, the very situation they condemned.
Their answer was to recommend a book on how to find a Bible-based church.
Total. Absolute. Disconnect.
Here's what I would love to see the Church do. I don't think any Christian pastor, teacher, parachurch organization, or Christian group should ever admonish people on any topic unless they have some means of drawing alongside those folks to ensure they have some means to carry out that admonition.
If we oppose abortion, we better provide some way of helping pregnant women take care of the children they're considering aborting should they elect to keep them.
If we want dads to be more available for their families and their churches, we better provide a way to help them cut back their hours at work without losing their jobs.
If we want moms to be at home with the kids and dads to be the breadwinners, we better provide a way for that to occur in families who are fighting for their economic lives in the midst of massive upheavals in a new global economy.
If we want to reach the lost, we better provide a way to live out the Gospel instead of just talking about it all the time.
If we say we want to instill a Christian worldview in people, then we better be able to speak to any issue, no matter how divisive, difficult, or sectarian it might be.
If we want people to fall in love with Jesus, we better provide a way for them to be head over heels in love with Him to the point that nothing else in this world matters but Him (even our lives, our families, our worldviews, our money, and any other thing that doesn't belong to us but to God alone).
But instead, we love those easy answers. We love telling people what they should be doing, even if we make no provision to help them to do what we say. It's all deserving of having a millstone tied around our necks and a permanent dunk in the ocean. Just how many people are we causing to stumble because we tell them what they must do, but provide no clue how to do it?
I'm going to pick on a pastor/teacher/author now. I want to say ahead of time that I believe his books are important and that everyone reading this should read them. I have no personal grudge against him, but I want to use his advice as an example of how we can make it hard on people to meet the expectations that Christian leaders suggest.
Randy Frazee, who has now moved on to Willow Creek, wrote two good books. The Connecting Church is about reaching out to our neighborhoods, opening our homes and lives to our lost neighbors. Making Room for Life is about adopting a Hebraic daily schedule that shuns the 24/7/365 lifestyles we've adopted. On the surface both of these books are outstanding in that their focus is exactly right. I would recommend that everyone read them, if only for the issues they raise.
But Frazee's books reveal a stark idealism that afflicts the modern American Church, creating more disconnects than they resolve.
The first disconnect is that Frazee, like many pastors in this country, has been professional clergy most of his life. Career pastors have no personal experience with what it's like to live—like most people do—in the real business world. For instance, Frazee says that employers will have no problem if you let them know ahead of time that in order to maintain a proper Hebraic daily schedule you'll only be working 40 hours a week or less. What planet is he living on? The average work week is 50 hours and people who don't work it are the first ones gone when the downsizing comes. I've seen that a million times. Same goes for those who work from home. They have no office presence, therefore no political standing in the cubicle farm, so they're the first ones cut when "dehiring" rolls around.
Locale is an issue, too. Frazee says that we should live within about fifteen minutes of where we work. But now that companies have no employee loyalty, career experts are claiming that people should be happy with two to three years in a specific company before they be required (or elect) to move on. I've never once had a job within 15 minutes of my home; most have been 40 minutes or longer. If by this standard I can expect to have more than a dozen jobs in my life, that would necessitate moving a dozen times or more to be true to what Frazee presents. Now ask what kind of lasting fellowship anyone can expect to enjoy when one is moving around that much! Worse yet, if we factor in Frazee's The Connecting Church ideas here, how can we possibly have any Christian impact in our neighborhoods if we're forced to move all the time just to find work or to be close to it? Frazee himself left Texas for Illinois for work-related reasons. How did that affect the neighborhood he lived in, the one he described in his book?
Just today, I spoke with a man who has seen his regular overtime cut back to zero. As a result, his wife, who was working part-time, is now having to work full-time for them to make ends meet. When both spouses are working like this, how do they have time for their church, much less for a Connecting Church like Frazee describes? I don't know. That's the disconnect. Those spouses instead become two ships that pass in the night, one working day shift and another working night. It's a miracle they can keep their own family together much less be actively reaching out to meet the needs of other families in their neighborhood.
This same man told me that everyone he knows is struggling with lost wages due to changes in the economy. The Wall Street Journal just last week trumpeted the fact that Silicon Valley is hiring again. Hurrah! But wait. The average salary in the Valley is now $69,000 a year compared to the $80,000 a year it was eight years ago. Is this progress? Gas is running $2.50 a gallon where I am. I can only imagine what it costs in California. And we got out of California before the electricity rates doubled. Honestly—and some of you in other parts of the country may not grasp this—$69,000 a year is NOT a livable wage for Silicon Valley. Even $80,000 is shaky. (Our rent alone on a two bedroom apartment was $1950 a month when we left in 2000. Taxes, too, are insane in California. ) With those salaries, both spouses work or they have to leave town. And if their specific work skill is linked to Silicon Valley, where else do they go that's not similarly oppressively expensive?
It may seem I'm talking too much about economics and jobs. But many of the issues that confront the Church today are rooted in the fact that our employment (with commute) takes up more time during a week than anything we do. Most everyone I know barely has time to do anything but work. Families that were adamant about having only the husband work (because this is what the Christian message is) are now requiring mom to work full-time just to make ends meet. What does that mean for volunteering at church, or for spending quality time with our families, or any of the other myriad things Christian radio, our pulpits, or Christian books tell us we must do in order to be good Christians?
The disconnects are massive. We need more radical answers. To the organization who told me the answer to our problem was finding a Bible-believing church: I haven't run across a single Bible-believing church that is speaking radical answers to these issues. If an organization such as their own that exists solely to provide biblical answers to these issues can't speak to them in a practical way, then how is any heavily diversified church going to, no matter how Scripturally accurate they are?
Here's what I see:
Some Christians force themselves not to think about these disconnects and are just carried around on the winds of change, even if those winds blow them into a foul place.
Some Christians think about these disconnects, but they routinely fall back to doing it the way that they've always done it, even if that way doesn't work anymore.
Some Christians fall into a sort of Christianized fatalism, saying there's nothing that can be done, so they're just putting in time till heaven rolls around.
Some Christians self-destruct because they can't make what they're hearing from Christian leaders fit with their own daily reality.
Want to know what's truly sad about those folks? None of them will make a lasting difference for the Lord in their generation. Instead, we need Christians who are willing to acknowledge reality, address it in the light of Christ's truth, and provide biblically-based, practical solutions to entrenched problems, changing the world in the process.
Those kinds of Christian change agents are rare because they must speak against the prevailing wisdom, which is actually no wisdom at all. Sounds like a prophet, doesn't it?
Lord Jesus, send us men and women of vision who are not satisfied with answers that never intersect the reality of most people's lives. Your Church needs them now more than ever.
Tags:
Vision
,
Disconnects
,
Culture
,
Work
,
Jobs
,
Business
,
Wisdom
,
Church
,
Faith
,
Christianity
,
Jesus
,
God