Yesterday's post was a sad one. Today's is angry. (I'm trying to run the table on emotions here this week.) So if you're not ready to read a rant today, there are some fine blogs on the right sidebar that might be less incendiary.
Here's the key passage:
For whoever shall give you a cup of water to drink in My name, because you belong to Christ, truly I say to you, he shall not lose his reward. And whoever shall offend one of these little ones who believe in Me, it is better for him that a millstone were hanged around his neck and he were cast into the sea. —Mark 9:41-42 MKJV
We have a classic biblical parallelism here:
1. Come to the aid of a follower of Christ and be blessed for it.

2. Cause a follower of Christ to stumble and be cursed for it.
It's outrageously simple.
Cerulean Sanctum is a blog about the Church in America. I try to write about issues that affect us Christians (and our churches) here in this country. Because I love the Church, I want more than anything for us to be all we can be, not only as a corporate body of believers but as individuals within that body.
This is why I'm distraught over the sheer number of disconnects between what the Church preaches and how we are to live in society. If we have Ultimate Truth in the Gospel of the Lord Jesus Christ, then we should not shrink from any challenge. The world should be able to look to the Church and have us point to the answers for problems that plague us all. Our apologetic is not contained in mere words, but in a practical outliving of Truth that applies to all realms of life: work, play, family, life, death, and so on.
But that costs something. It's not easy. It can't always be summed up in a Bible verse or a "read this Christian book and you'll be better." Here's a for instance:
A man receives a call at work that his pregnant wife and unborn child have died after a sudden onset of preeclampsia. They'd been married twelve years and had struggled to conceive. They were ecstatic to find out she was pregnant. This would have been their first child. They've been coming to your church for less than six months.
You want to minister to this man later that day, so you:
A. Drive over to his house, open up your Bible to Romans 8:28 and have him read it out loud for you.

B. Drive over to his house, sit down with him and let him weep. Listen to his stories about his wife. After your initial visit, bring him food from time to time. Pray with him after Sunday services. Let him know that he can call you any time, night or day. Send him handwritten notes encouraging him. Invite him to get-togethers with other people at your home. Ask him to sit with you in church. Make sure other people in the church know who he is and what happened to him so they can be an encouragement, too. Ask him what other ways you can help him through this time.
One of those options costs something. And it's not "A". The sad thing is that "A" is what many people get. I'm not here to say the Bible has no place in this man's recovery, just that the way it was mishandled in this case was deserving of a millstone placed around the deliverer's neck—especially since nothing else was offered.
I've lost my patience with "Christian" organizations that tell people how they should live, but offer no help in achieving that goal. They think they're providing a cup of water, but they're deluding themselves. The people who say these things are only offending Christ's little ones.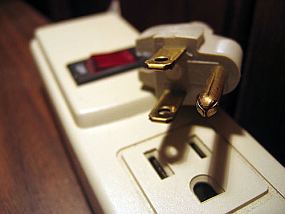 They deserve a millstone hung around their necks and a permanent dunking in the waters above the Marianas Trench. It's a disconnect of biblical proportions.
The largest disconnects are those that call on the Gospel to intersect culture. I hear American Church leaders preaching that God's way trumps the world's, but then the Christian who hears that message goes out into the real world and runs smack into the disconnect.
A few examples:
1. The pastor says that, in God's eyes, your age and appearance don't matter. The Lord looks on the heart. But of your church's single women, it's not the young, gorgeous ones sitting at home alone every Saturday night.

2. The family-oriented parachurch ministry says that the only biblical household is the one where the husband is the primary breadwinner, while mom stays home with the kids. But dad just lost his twenty-year job to offshoring, his field's dried up locally, and because mom didn't keep her work skills fresh after the kids came, they're burning through all their savings while dad spends sixty hours a week job hunting.

3. Your church teaches a class on parenthood and says that the proof of God's blessing on your life is the number of children you have. But you've had three miscarriages and the last one caused so many problems you had to have a hysterectomy.
The message the Church is speaking attempts to intersect reality and the result is a complete disconnect. And a painful one at that.
The retort to all this is to say, "This is all sour grapes, Dan. You're trying to blame this on God or to say the Scriptures aren't true."
And that would be completely off-base.
What's at fault here is not God or His word. The problem is that God's given the Church a responsibility to go beyond easy answers, but we've chosen the easy answers instead.
None of the beginning statements above are wrong. Instead, the Church has failed to implement godly solutions to worldly issues, giving those statements an appearance of error. We as a Church have forgotten how to make culture fit a biblical lifestyle. We're still trying to make a biblical lifestyle fit culture—and that doesn't work. Ever.
The world looks at our Christian square pegs and says, "Oh yeah? Well, try to jam that through our round hole!" Instead, Christians should be making the world's finest square holes that will perfectly fit the square pegs. But we're not doing that anymore.
We once did. In this country, Christian ideology once drove culture; now it's the other way around. And sadly, the modern Church is abetting that disaster.
Are we satisfying the thirsty children? Or are we offending them?
Tags:
Service
,
Caring
,
Integrity
,
Praxis
,
Church
,
Faith
,
Christianity
,
Jesus
,
God