Despite the penetration of the Internet into countless households, most computer-related activities on the 'Net are dominated by a particular personality type. We know these folks as the Mr. Spocks of the world, their early incarnations being those computer mavens glued to their monitors while playing Rogue into the wee hours of the morning. You know Rogue, the ASCII dungeon game (developed by Christians, BTW), wherein a little "@"-sign adventurer would explore an ever-changing dungeon looking for magic potions while fighting all manner of hideous beast? Fast-forward a couple decades and Rogue lives on in every first-person shooter that ever plunged through a bank of VRAM.
But I digress…
If Marla Swoffer were still blogging, she'd have these folks tagged by their Myers-Briggs type indicator: NT, or Intuitive Thinker. I gave up on the Myers-Briggs a long time ago, but the fact remains that Intuitive Thinkers dominate nearly every grotto carved out by the Silicon Glacier that has blanketed the world since the Homebrew Computer Club fired up their first Altair in the early Seventies. Toss a pack of Myers-Briggs tests into that group and you'd think all the respondents were the same person.
But I digress again…
Whether you adore the Myers-Briggs or think it's a bunch of New Age Jungian hooey, there's no ignoring the kind of person described by the NT personality: rational and logical—definitely not a sufferer of fools or "bleeding hearts." The patron saint of this particular kind of person is the low-key cop of Dragnet, Det. Joe Friday. His trademark phrase: "Just the facts, ma'am."
NTs still dominate the computer world. They're the quintessential early adopters. If there's a tech bleeding edge, they're perched on it. Not only were they the first bloggers, they developed all the software for the non-NTs to start their own blogs. NTs have a limited set of passions because passion isn't all that logical. However, if George Lucas were to film a few more Star Wars flicks, the NTs would be first in line with their homemade Darth Vader outfits sporting custom MP3-rigged labored-breathing effects. Or else they'd be out trying to create the world envisioned in the Matrix movies for no other reason than perhaps the Machines were right.
Christians who are adept at the Internet are also largely NTs. Scratch a Christian NT and they'll bleed systematic theologies, a term for each minutia of doctrine, and enough intellectual apologetics firepower to sink every representative depicted in (Walter) Martin's Book of Cults.
Because of the combo of Internet and Christianity, Godbloggers of the Intuitive Thinking persuasion dominate the Godblogosphere. Totally. For those few Godbloggers who aren't NTs, wading into the collective Godblogosphere under NT terms is a little like gathering a few likeminded buddies and knocking on Dan Rooney's door, wondering if his team is up for a game.
Better have REALLY good dental insurance.
I say all this because the worship wars are heating up again. Chuck Colson (could a former-Nixon-hatchet-man be anything else but an NT?) pitched a hissy over the weepy-eyed Jesus music he encountered recently. By "weepy-eyed Jesus music" I mean, of course, modern praise and worship choruses. Dr. Sam Storms (non-NTs do get PhD's, believe it or not) leapt into the fray to defend the worship song in question, "Draw Me Close to You," whose words follow:
Draw me close to you, never let me go.
I lay it all down again, to hear you say that I'm your friend.
You are my desire, no one else will do.
No one else can take your place, to feel the warmth of your embrace.
Help me find the way, bring me back to you.
You're all I want. You're all I've ever needed.
You're all I want. Help me know you are near.
Not NT hymnody. There's a hint of possible hugging and nearness. Too touchy-feely. No smiting at all. For NTs, it's a bit like that Hymn That Dare Not Speak Its Name, Fanny Crosby's "In the Garden." The NT response on Fanny's classic: "We acknowledge that certain hymns of determinate age are indeed superior to all other forms of sentient music, particularly when they reflect a Supralapsarian viewpoint, but by our considerable whiskers, that hymn has the line 'He speaks and the sound of His voice is so sweet the birds hush their singing.' You can't rationally expect church elders to sing a line like that, now can you?"
And thus we get to yet another facet of the worship wars.
Despite Sam Storms's attempt to punch through the psychological Maginot Line erected by NT folks who go searching for a hari kari knife the second someone fires up a song like "Draw Me Close to You," he failed. That should come as no surprise though, because few of us ever stop to think that our opponents might have a good point once in a while. Too often, those of us who say, "Once saved, always saved," are the same folks who add, "And once wrong, always wrong."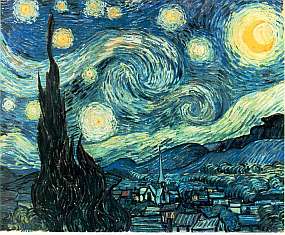 Let's draw a parallel in another medium. You find the exact dispute in the art world. Before the worship wars came the Realist vs. Impressionist wars. Neither side in that fray found the common ground that still said "art." The Realists might have looked at Van Gogh's "Starry Night" and said, "Well, the night sky depicted in this deranged work bears no resemblance to what we see with our eyes. The artist is taking brutal liberties." On the other hand, the Impressionists might have considered Millet's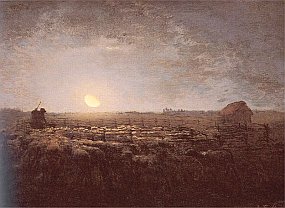 "The Sheep Meadow, Moonlight" and said, "It's lacking the passion of the artist to see with the mystical eyes of the soul."
When we start this debate in the Christian music world, it's the same tired dichotomy.
Nothing is more difficult than trying to get disparate people to understand the merits of differing viewpoints, especially in the Church. Take your staunchest NT-like Christian and sit him down next to a bawling single mother of six in your average Pentecostal church and the disconnect will be so brutal both parties might explode. Yet in the same way that "Come Ye, Sinners" stirs the heart of Mr. NT, that bawling mom is experiencing the same feeling (oops, bad word) when singing "Draw Me Close to You."
I hate to say this to the NTs out there, but we can't put a tricorder on a Christian connecting with the Lord and derive any kind of meaningful data out of the experience. There's no yardstick capable of measuring passion! And God is not only passionate about His chosen, but a few of His chosen return that same passion.
Sure, we can distill a commentary on the Song of Solomon and we can systematize its theology, but if we miss the passion in it, the unrestrained feelings expressed in that most holy book, then we've missed most of the point:
Let him kiss me with the kisses of his mouth! For your love is better than wine; your anointing oils are fragrant; your name is oil poured out; therefore virgins love you. Draw me after you; let us run. The king has brought me into his chambers. We will exult and rejoice in you; we will extol your love more than wine; rightly do they love you.
—Song of Solomon 1:2-4 ESV
Bears a striking resemblance to "Draw Me Close to You," doesn't it? And if you try to analyze that passage under a theological microscope, you'll miss not only the entire context, but the very passion of the Author.
Let's remember: One of the many wonders of Christianity is that it embraces both mind and heart.
"Set your minds on things above…"—the mind! The rational part of our being that God fashioned to grasp wisdom and knowledge. That same mind God Himself designed!
"I have laid up your Word in my heart…"—the heart! The blood and guts passionately human essence of who God shaped us to be. That same heart God Himself designed!
To those who are siding with Colson—and they are legion—I say this: Our love for Christ can't exist only in our minds. Nor can it be analyzed for logical consistency. "You're all I want. You're all I've ever needed." Sometimes there is no greater truth found than what burns in the passionate heart of the child of God. Even the wisest wise man with the strongest mind every forged knows that passion is too wonderful to understand.
These worship wars are complete nonsense, folks. Unless a song is utterly heretical, we need to stop persecuting works we can't understand because we're only perceiving their usefulness with either our mind or our heart (but never both). Doesn't matter if we're castigating today's worship song or yesteryear's hymn. We've got to stop.

Call the truce. But before we do, let's all consider the merits of the other side first.
And in this week of Christ's Passion, may our passion for Him encompass both our hearts and our minds.