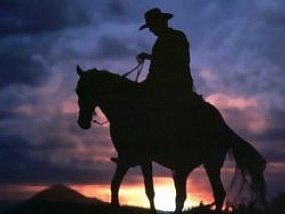 I had a colossal post about "a personal Jesus" slated for today, but instead want to comment on what is a growing trend: Christian bloggers signing off for good.
Cerulean Sanctum is NOT going away, I'll say that right off. However, this last week Matt Self of The Gad(d)about and Marla Swoffer of Just Marla said adios to blogging. There have been about a dozen others in the last month or so, a trend I did not see at all in 2005. As a joke, Rebecca of Rebecca Writes posted a link to an April Fools post claiming that Tim Challies was hanging it up. As much as that might seem impossible to believe that Tim would quit, when I first read the link to that post, I was not surprised that it might be true.
For many, the costs are too high. For Matt, it distracted him from his work in a job that often has one working sixteen hour days seven days a week. For Marla, it took her away from family. Both of those are legitimate reasons to quit. I suspect that Matt and Marla aren't the only Christians who've found that they were losing more in "real life" than they were gaining from blogging. Knowing when to say goodbye takes guts. Saying goodbye to a blog is a little death.
I've flirted with shutting down Cerulean Sanctum at least a half dozen times in the last year. Even this last Friday I considered pulling the plug. I started the blog as a ministry at a time when I had no ministry options at my old church. When I saw some other Christian blogs, I realized the need to write on American Church issues no one else addressed. Even today, not many Godblogs exist that talk about the issues I try to tackle here. That's one reason this blog keeps going.
Some of the e-mailed responses I've received from readers to the questions I asked last Thursday are heartbreaking. Many people are stuck in a downward slide and cannot find help from their churches. That kills me. It's one of the reasons why this blog exists, though, an it's why I'm staying on. Earlier this year I posted that we Godbloggers were too trapped in petty centuries-old bickerings over doctrine to see the great potential to use blogs to tie people together for practical ministry. Even now, I'm working to see that reality come to fruition.
In hopes that Cerulean Sanctum can grow and be a nexus for helping people all over the country, I took a small step and registered the domain name ceruleansanctum.com. You can access the blog that way. If you have Cerulean Sanctum blogrolled, please change your pointers to https://ceruleansanctum.com—it redirects to the longtime URL for this blog (http://www.dedelen.com/cerulean.html), but expect that to change in the future, too.
For all those Godbloggers who have gone on to better things, I understand. Thank you for blessing us with your blog presence.
And stay tuned here for more to come….
Tags:
Blog
,
Blogs
,
Blogging
,
Blogosphere
,
Godblogging
,
Godblogosphere
,
Church
,
Faith
,
Christianity
,
Jesus
,
God