Therefore encourage one another and build one another up, just as you are doing.
—1 Thessalonians 5:11 ESV
In part 1 of this two-parter, I outlined how a secular meeting carried in it all the hallmarks of real community, the kind that should power the Church. However, I don't believe that we understand how vital community is to the believer, therefore we tend to wander like lone rangers thinking "Christ is all I need," but forgetting that it is in the Body of Christ that He chooses to express Himself before He returns.
What would the Church in America look like if we took 1 Thessalonians 5:11 to heart and made it bedrock to our interactions within the Christian community?
I guarantee that not a single person reading this wakes up in the morning thinking, "How can I build up other believers?" I'm not sure even our pastors think that way. I don't think that way.
But what if we did?
We talk about service, but service is nothing more than putting aside my need to meet the need of someone else. The Bible that we read and study so that we can be equipped for every good work stays mere words unless we let the Holy Spirit change our minds about those good works within community.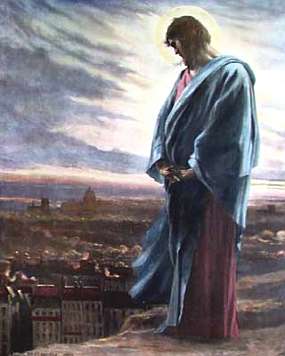 If I'm not reading the Scriptures with a heart inclined toward service, then the word remains unfruitful in me. I may say that I want to be like Jesus, who came to serve and give Himself as a ransom, but that aspiration means nothing unless I die to self and take on His mantle of service to others.
Last year was a bad one for the Christian blogosphere. I can't ever remember so many horrible arguments paraded in public like I did some of the blog posts from 2005. Yet how slim were the words of encouragement! We had our proportions reversed and it showed in vitriolic commentary as foes arose where none were before.
This lack of up-building comes from daily repeating the world's mantra that I am all that is. Me. Myself. I. As much as we Americans like to think of ourselves as generous people (and we are to some extent), we still wear our self-centeredness on our sleeves. We've even made the Jesus who died for the sins of the world into a personal savior. Not his. Not hers. But mine.
I now understand that some Christians are requesting that their personal information be left out of church directories in order to protect their private lives! Listen, when we became Christians, we gave up all rights to a private life. People of the world dead in their sins have a private life, but the Christian doesn't. The Christian has a public, communal life. That community is key to everything the believer does and is! You can't build a temple to the Lord out of one stone, but with a quarry of them you can.
When each of us fixates so much on his or her own thing, is it any wonder that so many people have been burned by the Church? Worse yet, some people make spiritual excuses for that hurt. Earlier this year, I read a comment on another blog that excused hurting fellow believers by claiming that it's God's will for the hurt to happen. I thought, Then by all means, let's treat each other more savagely so that grace may abound! Let's be even MORE self-centered.
Benjamin Franklin, when confronted with the enormity of the independence he and his colleagues proposed, proclaimed, "We must hang together, gentlemen…else, we shall most assuredly hang separately." How sad that so many of us in the Church in this country have chosen to hang separately. We let our brothers and sisters fend off the Enemy's attacks alone. Families fall to the ground and so few take it to heart, instead shaking heads and saying, "Thank God that wasn't us."
But time, and what comes with it, is fickle. One day, it might be us. What then? When we weren't there for others, how can we expect anyone to be there for us?
I get so many letters from people in dire straits who turned to their churches for help and got a door slammed in their faces. I could blog for the next year by doing nothing more than posting those e-mails from the very first day I started writing about these topics on this blog. Isn't that sad?
What will it take for us, when we're confronted with a need, for our first words to be, "How can I help?" Isn't that the character of Jesus Christ right there? Whenever He was confronted with a person's need, He didn't say, "Oh, I'll pray for you next time I draw away to a mountain top." No! He did something about that need right then and there. He met the needs of His community, the ones who lived in His region of Palestine so long ago.
We need each other, folks. The Church that God blesses is the one that works like an athlete's finely-tuned body, not like a bunch of organs held together by sheer force of will and a set of gritted teeth. My hope for the Church would be the same one that Paul desires: that we encourage each other and build each other up. If I'm in pain, you're there for me. When you need money, I offer to help. Even if my contribution looks more like the widow's mite than the enormity of the Bill and Melinda Gates Foundation, I still give it, even if that means I have to give up something I crave like crazy to make it possible.
Paul wrote this to the Corinthians:
So with yourselves, since you are eager for manifestations of the Spirit, strive to excel in building up the church.
—1 Corinthians 14:12 ESV
If we ever want to see the Spirit take our churches to the next level, building each other up, whether spiritually or by meeting the physical needs of the brethren, is the catalyst for empowerment. If we watch each other's backs and truly hang together, I know we'll be better for it in ways we can only dream of.
That's my hope for what the Church in America 2006 (and beyond) will be.